All Saints, Dorval
March 28, 2021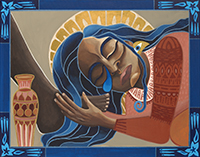 Lauren Wright Pittman, "Anointed", 2018.
While he was at Bethany in the house of Simon the leper, as he sat at the table, a woman came with an alabaster jar of very costly ointment of nard, and she broke open the jar and poured the ointment on his head. But some were there who said to one another in anger, 'Why was the ointment wasted in this way? For this ointment could have been sold for more than three hundred denarii, and the money given to the poor.' And they scolded her. But Jesus said, 'Let her alone; why do you trouble her? She has performed a good service for me. For you always have the poor with you, and you can show kindness to them whenever you wish; but you will not always have me. She has done what she could; she has anointed my body beforehand for its burial. Truly I tell you, wherever the good news is proclaimed in the whole world, what she has done will be told in remembrance of her.'
Until recently, this passage was not included in the lectionary account of Jesus' Passion; the gospel selection began later in the chapter, with Judas' decision to betray Jesus. Ironically, a story that Jesus himself promised would be proclaimed throughout the world in memory of the anonymous woman, was for decades not officially told at all.
It would be easy to slide by this vignette, focused on the more familiar and dramatic episodes of the Passion, the agony in the garden, the trial, the flogging and Crown of Thorns, and the cross itself. But sometimes it is through these smaller, more mundane details that we can find our way into the story on a deeper level.
A year ago, during our first pandemic Holy Week, the story of Jesus' arrest, trial, and crucifixion felt fresh and immediate in a way that it never had before. We had just been wrenched off course in the middle of an ordinary Lent, and suddenly thrust into a new and scary world. We could relate to the disciples' similar experience directly, at a gut level.
A year later, I don't know about you, but I'm finding it much harder this year to convince myself that it's Holy Week at all, let alone figure out how to feel about it and how to connect with the story. I've probably said it a tiresome number of times by now, but in some ways it really feels like it's been Lent continuously for the last thirteen months.  Time is scrambled and out of joint. We are stuck in the mode of waiting for something to happen.
In a way, though, Mark's gospel is particularly appropriate for this strange limbo we find ourselves in.  Mark is notorious for the writer's constant use of the word "immediately"; it occurs five times in the first chapter alone.  So paying attention to where "immediately" is used is always an interesting exercise. As you read the account of the entry into Jerusalem with your household this morning, perhaps you noticed that "immediately" is used twice in the space of two verses: Jesus tells the disciples, "Go into the village ahead of you, and immediately as you enter it, you will find tied there a colt that has never been ridden; untie it and bring it. If anyone says to you, 'Why are you doing this?' just say this, 'The Lord needs it and will send it back here immediately.'"
But in the full two chapters devoted to the Passion story, the word "immediately" appears only once: when Judas arrives in the garden with the soldiers, prepared to betray and arrest Jesus.
The account of the Passion is the climax to which the whole gospel has been building: the event for which Jesus came to earth in the first place, the explanation toward which all the hints and signs and miracles have been directed. We are no longer rushing headlong toward the big event; we are there, and the narrative slows down radically in order to pay attention.  This is what we came for.
And so, in this deeply confusing time in our own lives and in the life of the world, this is an invitation to go deeper.  To really sit with the story.  To notice the small details, as well as the grand sweep of the narrative.  To let ourselves be struck by the anonymous minor characters, and their actions and words and emotions, as well as the big names like Peter and Judas and Pilate. To put ourselves in the place of those characters, and wonder what we might feel and say and do in their place.
What might the woman anointing Jesus have been feeling? Why did she choose this particular way of demonstrating her love and sorrow? What did she know about what he was about to undergo? And why, after Jesus himself promised that her story would be told wherever the gospel was proclaimed, has the church been so reluctant to tell her story?
Sometimes the small details that jump out at us are more disturbing. "Now a man called Barabbas was in prison with the rebels who had committed murder during the insurrection," writes Mark – and that sentence sounds very different in 2021 than it did even a year ago. We've gotten used to understanding Barabbas by comparison to "terrorists" elsewhere in the world – but it's a whole new perspective when the headlines every day are reporting into the ongoing investigation of actual rebels who committed murder during an actual insurrection only a few weeks ago and a few hundred miles away, people who look very like us, in a society that we had previously thought to be more or less civilized. Another way to find our way into the story and contemplate what it would have felt like to be there.
Another detail that it would be easy to miss is the one about the man picked out of the crowd to carry Jesus' cross. "They compelled a passer-by, who was coming in from the country, to carry his cross; it was Simon of Cyrene, the father of Alexander and Rufus." Why do we know this man's name, and particularly those of his children? One can only assume that it was because that random encounter in the crowd beside the road to Golgotha led to an enduring connection with the community that followed Jesus – that Simon was sufficiently intrigued by what he saw and felt and experienced as he carried this stranger's cross, that he sought out Jesus' followers in the stunned and chaotic days when Jerusalem was abuzz with the news of the empty tomb, and that he (and his sons!) were known by name to the community that would be hearing and reading Mark's Gospel some thirty years later. There's a whole story of faith, hope, and discipleship, in those few words.
Even if you have no idea what day, month, or year it is, if you feel like you're stuck in a limbo of waiting, or if you feel like things are rushing past you at the speed of a Markan "immediately," take time this week to dwell in the story.  We have two more chances to walk through the story of the Passion – Stations of the Cross on Tuesday, and the noon service on Good Friday. Listen, and notice what you feel. Imagine yourself in the place of those minor (or major!) characters, and what they would have felt and thought and done. And then, proclaim the good news, and tell the story in remembrance of her.
Amen.