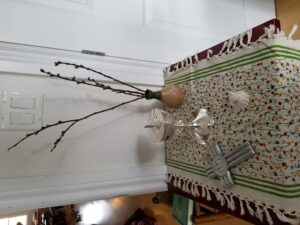 My home altar, Holy Week 2020
A year ago, we were making a last-minute pivot to planning Holy Week on Zoom, and wondering whether we would be able to have a big Easter service sometime before Pentecost. And here we are now, planning our second consecutive Holy Week and Easter in lockdown.
You have probably heard that in the coming days, the curfew is being extended until 9:30 PM, churches are allowed to increase attendance to 25 people in person, and other restrictions are being eased in various ways throughout the province. As of the writing of this post, we do not intend to significantly alter our plans as a result of these changes. There are several reasons for this, but two are primary.
First, the elevator installation is still ongoing and makes it impossible to use the sanctuary in any case; even the chapel is full of stuff that's been moved out of the sanctuary, and could not hold more than about a dozen people with social distancing even under normal circumstances. This work will probably not be completed until the end of April.
Second, we would rather do Holy Week well, fairly, and intentionally online, and then take our time to begin reopening (again) in an orderly manner during Easter Season. We are currently tentatively looking at Pentecost (May 23) as a goal date, but any number of things could change between now and then!
Hence, here is what you need to know for Holy Week and Easter:
Friday, March 26 – Palms will be available for pickup outside the church. If you cannot pick them up and would like palms delivered to your home, please contact the office.
Palm Sunday, March 28 – Materials will be provided for households to observe their own palm processions. Palm/Passion Sunday worship, together on Zoom at 10:30 AM
Holy Monday, March 29 – Evening Prayer on Zoom, 5 PM
Holy Tuesday, March 30 – Stations of the Cross on Zoom, 7 PM
Holy Wednesday, March 31 – Evening Prayer on Zoom, 5 PM
Maundy Thursday, April 1 – Dinner and Worship, 2 options:
Together on Zoom, 6 PM
At your convenience (materials will be provided)
Homily and Stripping of the Altars on Zoom at 8 PM
(There will be no overnight vigil from Maundy Thursday to Good Friday this year, because we will have no Communion elements to keep vigil with.)
Good Friday, April 2 – Passion and Solemn Collects, 2 options:
Together on Zoom, 12 noon (Sung Passion according to St. John)
At your convenience (materials will be provided)
Tenebrae and Homily on Zoom at 7 PM
Holy Saturday, April 3 – All Saints' will participate in the Great Vigil of Easter broadcast from the Cathedral beginning at 7 PM. Following this service, we will celebrate our own First Eucharist of Easter on Zoom at a time dependent on when the Cathedral Vigil wraps up. The bread and wine will be consecrated in my home, with only myself and Peter physically present, since the timing is such that even with the later curfew, we would probably not be able to finish the service and get everyone home in time if we had it in the church building.
Easter Sunday, April 4 – Distribution of consecrated communion bread from the church, 7:30-9:30 AM. If you cannot pick it up and would like bread delivered to your home, please contact the office. At present, we plan to distribute only the bread, not the wine (communion in either element confers all the benefits of both). However, if receiving the wine is very important to you, please let us know and we will make arrangements.
Festive Easter service at 10 AM, broadcast from the chapel, during which we will partake together of the communion elements consecrated the previous night.
Clicking on the link in each service description will open the Zoom link to that service!
Also, if you would like to have the names of loved ones who have died included in the Easter bulletins, please let Jennifer know.
In a very real way, it feels as though last Holy Week, we entered together into the tomb of Christ and never really emerged. This year, we are still there, but the hope of resurrection is starting to feel real in a way we could barely have imagined in April of 2020. I look forward to walking prayerfully together through this holy time once again, and to rejoicing in what we find on the other side.
In God's peace,
Grace+
P.S. Start making your home altars for Maundy Thursday!