All Saints, Dorval
March 7, 2021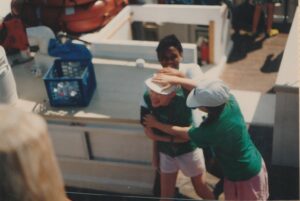 Ariel and me, in the summer of 1991, at sailing camp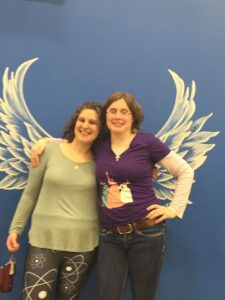 In 2017, taking our sons to SkyZone in Massachusetts
One of my oldest friends is a single parent and chemistry teacher in the Boston area. She is chronically stressed about money and also takes her work very seriously, so she does a lot of tutoring and professional development on the side. A couple of years ago, she posted on Facebook her schedule for one particularly exhausting week; in addition to her usual getting up before dawn to get to the high school where she teaches, she was leading evening pedagogy courses for other teachers, shuttling her son to archery classes and medical appointments, tutoring, and incidentally also cooking, cleaning and preparing for a major holiday.
But although her list was packed with tasks on Sunday, Monday, Tuesday, Wednesday, Thursday, and Friday, there was only one item on Saturday: "Required day of rest."
Because my friend is a devout and observant Jew, the holiday she was preparing for was Passover, and she has observed the Sabbath her whole life.  And I suspect that that is the only, or at least one principal, reason that she has been able to sustain her otherwise punishing schedule as long as she has.
Our Jewish cousins have a lot to teach us about many things – about engaging with scripture, about mourning, about wrestling with God – but the observance of the Fourth Commandment is one of the primary ones.
Sabbath keeping in Christianity, when it has happened at all, has tended to involve joyless Puritan-style rule-enforcing rather than fruitful rest and celebration. But the Sabbath has its roots in joy and liberation: when the people came out of slavery in Egypt, God gave them the gift of one day a week entirely decoupled from the market, from work and obligations, from production and consumption; one day to simply rest and rejoice in God's good creation.
As slaves in Egypt, they had had to produce ever more bricks in ever less time, seven days a week, with no acknowledgement of their human need for rest; the Sabbath is the mark of a free people, who can choose to stop. The fact that the gift is phrased as a commandment does not make it less of a gift; sometimes God has to say things with some force to get them through our thick human skulls!
If these were normal times, I would proceed to talk about some of the challenges to Sabbath observance in our fast-paced, always-connected modern world, and help us think together about ways to incorporate Sabbath rest into our lives even if it doesn't look like one full 24-hour period of total rest per week.
But the pandemic has bifurcated us into two distinct groups: those whose dream of Sabbath is even more out of reach than ever, and those who suddenly find themselves with far too much.
Working people, especially parents, are operating in the midst of ongoing chaos, with children underfoot (even if schools are open, all the usual activities, playdates, and so on are not happening), work having invaded the home, and ordinary chores like grocery shopping taking twice as much effort and planning as usual.
Meanwhile, those who are retired have nothing but time, and are trying to fill the hours that would normally be devoted to travel, socializing, volunteer work, or babysitting grandkids – while dealing with the frustration of not being able to directly help those who could really use the help. And they may be wondering why they feel so tired all the time when they have nothing to do – and why despite feeling tired all the time, they're still sleeping badly.
I saw a fascinating article this week on the TED Talk website about the seven kinds of rest that we all need. The first is physical rest, which we all know we need (even if we don't get it). But physical rest includes not only sleeping, but also stretching, exercising, and other ways of taking care of our physical bodies.
The other six kinds of rest listed in the article were:
Mental rest: giving the brain a break from active, productive thought.
Sensory rest: taking time off from sensory input, especially the kind that's mediated by the screens that have been essential to everything we do in the pandemic.
Creative rest: seeking out and intentionally appreciating beauty. Last week, I took advantage of the reopening of the Musée des Beaux-Arts to get out of the house so my cleaner could come for the first time in several months. I confess that I wasn't particularly invested in the content of the current exhibit, a show about the Québecois painter Jean-Paul Riopelle, but it was a wonderful change of pace to stand in a dimly lit exhibition room and move slowly past paintings and sculptures depicting forests, icebergs, owls, and other motifs of the Canadian north, focusing only on the real artwork in front of me rather than the flickering images on my laptop.
Emotional and social rest: these two are strongly connected. Emotional rest means taking a break from emotional labour: from performing positive emotions when we are actually sad and struggling, from managing other people's feelings, from jumping from one emotional state to another without pausing in between.
And those who are emotionally exhausted are often also socially exhausted. Which may sound strange this year when our social interactions have been so drastically cut down, but Zoom socializing is still socializing – and in many ways is even more draining, and less revitalizing, that seeing people in "real life".
And finally, the seventh kind of rest is spiritual rest; and here I quote the article verbatim: " the ability to connect beyond the physical and mental and feel a deep sense of belonging, love, acceptance and purpose."
Prayer is always a form of rest available to us. No matter how boring or how chaotic our life, no matter how tired we are or where our emotions are, the refreshing and recentering power of conversation with God is there for us to tap into.
In today's world, true rest is a radical act. The dominant economic ideology of our age would have us believe that if we are not being productive, we are useless – and this ideology has led to some of the terrifying revelations of the pandemic, as we have discovered that the old and the disabled are often treated as disposable and even in the midst of unprecedented society-wide trauma, students are still expected to learn and workers to produce at the same pace as before.
Our sabbath observance – our claiming of the rest that is our obligation as people made in the image of God – is profoundly countercultural.  The world looks at someone napping, reading, praying, or simply staring into space, and sees someone foolishly wasting time and squandering earning power. But, as Paul's powerful words remind us, the foolishness of God is wiser than human wisdom, and the weakness of God is stronger than human strength.
Sabbath is not foolish or weak. It is our gift, our commandment, and our joy.
And one of our primary sources of spiritual rest is singing. I cannot wait to sing with all of you together in one room again. But in the meantime, simple, meditative singing is a wonderful way to centre and refresh ourselves.
[Teach "All Things New"]
Amen.