All Saints, Dorval
Advent II, Year B
December 6, 2020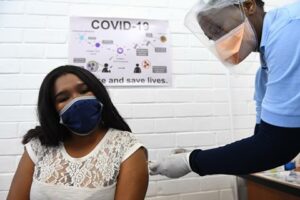 Comfort, O comfort my people, says your God. Speak tenderly to Jerusalem, and cry to her that she has served her term, that her penalty is paid, that she has received from the Lord's hand double for all her sins.
These are some of the most beloved words in the Bible, sung every year to hymn tunes and to the music of Handel, hallowed with time and with the longing and hope of generations.  But even these words, profoundly and intimately familiar as they are, land differently on our ears this year, in December of 2020.
We are desperately in need of comfort.  After the intense focus of the pandemic spring and the relaxation of the summer lull, the virus is stalking ever closer even as the air grows colder and the year draws toward the shortest day. This week, our congregation, which had made it through nine months of COVID without losing a member, experienced its first death from the virus when Norman Wilson succumbed at the age of 95. Cases in Quebec are higher than ever, jumping 30% between Friday and Saturday. When we hear the words, "All people are grass, their constancy is like the flower of the field," it is as though Isaiah is speaking directly to us.
And we can sympathize with our long-ago ancestors, before the understanding of how germs worked, who when the plague struck their communities wondered whether God was punishing them; it certainly feels like we are receiving from the Lord's hand double for all our sins.
However much we resonated with, and enjoyed, the words and music and images of Advent in the past, all those Advents seem … well, theoretical, in comparison to the deeply practical, visceral Advent of 2020. Friends: this just sucks.  And so, we are waiting.  We are hoping.  We are longing.  We are grieving.  We are crying out for comfort, for deliverance, for assurance that God has not forgotten us.
Thanks be to God, there is hope; in the gloom of this COVID winter, the end is in sight.  Deliverance is on its way.  I can't even imagine how miserable things would look if we hadn't heard, over the past month, that the incredible global effort to produce a vaccine in record time has been successful.  The first actual inoculations may have taken place by the time this sermon is delivered.
I have a friend who is a member of a United Church congregation in Massachusetts and who works for a company that provides technology to the health care industry. Last Sunday, she wrote the following reflection on Facebook:
We lit the first candle this morning during Zoom church. I hate Zoom church, but I love that we have Zoom church. I love that we are all gathered around our individual wreaths participating in the same ritual together. In future weeks we will light candles for Peace, Joy, and Love, but the first candle is for Hope.
I didn't expect to cry while lighting the Hope candle in my PJs at our dining room table, but I did. Hope seems like such a radical thing right now – there are almost too many things to hope for. But what came to mind for me today was the other time I cried unexpectedly this past week: The moment at work when I learned that the first COVID vaccine orders had been submitted by our clients and queued up in our system. I mean, I knew a vaccine was coming. But seeing first hand evidence of its existence in my actual life after months of waiting was kind of breathtaking (and tear inducing, apparently). We have such a long way to go, but there is hope.
A couple times since the news of the vaccines has broken, I've had people say to me some variation of "I know our Advent hope isn't for anything as practical as a vaccine, but …" and my response has been, "If our Advent hope isn't for something as practical as a vaccine, then what on earth IS it for?!"
When Isaiah proclaims, "Comfort, O comfort my people, says your God," he isn't telling the people that their lives will be revolutionized by positive thinking or that they will be rewarded for their suffering by a perfect afterlife.  He is promising them deliverance here, now, in the most practical and physical way possible; he is telling them that they can go home, that their exile is ended, that they can return to the land and the city for which they have been longing, after seventy years of singing the songs of Zion beside the rivers of Babylon.
This is a hope that is enfleshed in bundles carried on the back, in steps along a dusty road, in stone painstakingly laid upon stone as the city and the temple are rebuilt.  And our hope, here, now, today, is likewise enfleshed, in syringes and subzero freezers, and the Canadian military bending all their logistical and organizational power to the task of saving, rather than taking, life.
In the wilderness prepare the way of the Lord; make straight in the desert a highway for our God. This is not just an inspiring metaphor. God cares about our bodies. God comes among us at Christmas, in our flesh, to demonstrate in the most unmistakable way possible that bodies matter to God. This pandemic Advent, the way in the wilderness that we are celebrating is the runway for the army jet loaded with freezers full of glass vials, taking off into the Arctic night to bring health and protection to those in desperate need.
But of course our hope, though real and essential, does not negate the grief and hardship of the present moment.  The dead are still dead.  There will be too many more cases, and too many more deaths, before our deliverance is fully realized. We are still facing a Christmas of tight restriction and deep isolation.  We are frustrated and on edge; we vacillate between hope and grief, between fear and fragile joy.
And so does the prophet. Throughout Isaiah, there is no straightforward arc from exile to return, from despair to triumph, from abandonment to redemption. The joy and the grief are intertwined, inseparable from each other. (And one thing hasn't changed this Advent: I still strongly encourage you, if you never have before, to sit down and read all of Isaiah.) Much of the first forty chapters is fierce denunciation of Israel's sins and prophecies of the coming judgment; yet scattered throughout are some of the most beloved passages of Advent hope – the people who walked in darkness, the shoot from the stump of Jesse, the promise that God will swallow up death forever.
And even when the mood shifts in the last third of the book – the part written by the authors known as Second and Third Isaiah – the tone can switch within a chapter from "Break forth together into singing, you ruins of Jerusalem, for the Lord has comforted his people!" to the account of God's servant being wounded for our transgressions and crushed for our iniquities, which is read every year on Good Friday.
God knows what it is like to vacillate between joy and grief in these strange human bodies we live in. That is what John the Baptist announces when he appears on the scene in this week's passage from Mark, as the voice of one crying out in the wilderness. Jesus comes to us in the middle of it all, fulfilling the words of the prophets as they set cheek by jowl the statements "The grass withers, the flower fades; surely the people are grass," and "Get you up to a high mountain, O Zion, herald of good tidings!"
We live in both the grief and the hope, and God is with us, in this strange pandemic Advent, comforting us, caring for our fragile mortal bodies, bringing good tidings, and gathering the lambs in his arms.
Amen.