A sneak preview of the newsletter that will come out next week!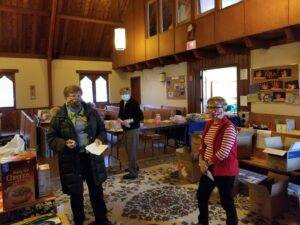 Anne Simpson, Yvonne Wakeland, and Laura Hill hard at work on Saturday
Advent 2020
It's a new church year, and we pray that this one will be very different from the last one – that this will be the year that we emerge from the pandemic and are able to resume the things we missed from our old lives, while incorporating the lessons of this strange time to make good changes!
We spent the last day of the old church year coming together as a parish to deliver bazaar orders and Advent care packages to more than 150 households, and collecting donations for Christmas baskets and St. Michael's Mission. Thanks to the unparalleled organizational skills of Laura Hill and Jennifer Gibb, and the cheerful volunteer work of many others, it was a great success!
This morning in Zoom church, while we were chatting before the service, several people observed that the most important thing in this pandemic time is to maintain our connections – whether by phone, email, on Zoom gatherings, or by simply praying for one another. All Saints' has done a tremendous job, since the beginning of the pandemic, of cultivating that sense of connection.
Our efforts yesterday, though they were a lot of work, were more than worth it not only because people received pretty knit items and delicious baked goods; not only because we raised money for the church and collected donations for those in need; not only because every household received materials for Advent devotions.  They were important because they fostered that sense of connection. As I cut out 150 sets of Jesse Tree ornaments over the past few weeks, I thought of and prayed for those whose Advent journey would be enriched by them. As we checked and rechecked the lists, we were put in mind of the people behind the names and addresses, who would be receiving the deliveries. And those who did receive them had the physical proof that they had not only been thought of with care and concern, but that those thoughts had been put into action.
In a very real way, Advent itself is about this theme of connection. In promising to come among us as a human being, God has created an extraordinary connection with us. When we cultivate connections with each other, we reflect God's love and God's will for us.
The pandemic has highlighted our yearning for connection.  We are doing our best to stay connected as a congregation, but Advent reminds us that our greatest and deepest need for connection is God.  As you light your candles in the early darkness this year, and use your Jesse Tree ornaments to retell the story of God's longing for connection with us, may you be blessed with a sense of God's presence and with a renewed connection with those you love, even in these difficult times.
With Advent blessings,
Grace+