Sunday November 29, 2020
First Sunday of Advent – Sermon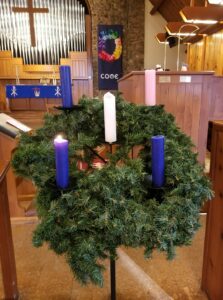 May the words of my mouth, and the meditation of our hearts, be acceptable in Thy sight, O Lord our rock and our Redeemer.  Amen
Today is the first Sunday of Advent, traditionally regarded as the Sunday of hope and the start of a new liturgical year.  The main theme of Advent is Jesus' coming, and we reflect on this coming in three ways: as a baby born in Bethlehem, a living presence in our world today, and the risen Saviour, who will come again, the day and hour of which we do not know. Advent fills us with feelings of anticipation, waiting, and most importantly preparation both physically and spiritually.
On the physical level, Advent preparation for some of us means a preoccupation with our "to do list" that requires us to check off every item on it before December 24.  There are gifts to buy, baking to do, staff parties or lunches to attend, family get togethers to plan, Christmas Bazaars to browse, Christmas Pageants and concerts to attend, Christmas tree to trim, gift packages to wrap and mail, the list goes on.
In preparing for Advent this year, I hazard a guess that the hustle and bustle of the season would not be as hectic because we will be doing most of our Christmas shopping online thereby avoiding crowds, and line ups to get into stores as well as the checkout while maintaining our 2 metres distance apart.  Or worse, because we're buckling under the adverse effects physically, mentally and emotionally of COVID-19 in our lives. The sense of waiting and anticipation associated with Advent for many of us will be somewhat focused on a return to "normalcy" and access to an available vaccine.
A state of normalcy during the season of Advent for me, will be participation in our Christmas Bazaar and serving Christmas lunch to the needy at the St. Michael's Mission. It is so amazing that in this time of the pandemic we have come up with ingenious ways to continue the Church's mission.  The planning and execution of our virtual worship services – a case in point.
Looking at the Advent season from a spiritual point of view, the themes of all of today's scripture readings appear to mirror the apocalyptic waves of emotion we are riding or have ridden this year.  In the first reading of Isaiah, we have the lament from exile encapsulated in the feelings we are going through, as we are denied visits from our loved ones, or our inability to visit those sick or dying in nursing homes and hospitals, or to gather with relatives and friends to mourn the loss of a dear one. As in Isaiah's passage, the refrain from Psalm 80 channels our restorative cry as we ask God to be shown the light of his countenance in the hope that we be saved.
In the second reading, Paul's letter to the Christian community in Corinth speaks of the grace of God and the spiritual gift bestowed upon them and cautions about their misuse. Paul teaches that a life of vigilance, watchfulness and patience will be rewarded with God's presence in our lives. Advent is the time to "be woke", as spoken in today's vernacular, and see the world around us as it really is.  We ought to be more aware as to how people are being mistreated and beaten down by the very institutions that are pledged to help them; and of those who are denied the fullness of their life by others, because of the colour of their skin, religion, how much they own, or who they love. Where the world is not what God intended it to be, we need to become more involved in whatever way we can to challenge, bring attention, and work towards change. This Advent season let us challenge ourselves to live the remarkable life God has created for us and put aside lesser ways of living that life.
In today's gospel reading, Jesus tells us we need to "keep awake – for we do not know when the master of the house will come." How do we keep awake? one may well ask.  During my university student days, I remember drinking large cups of very strong, black coffee, sometimes to no avail in order to pull off an "all-nighter" and meet a deadline for handing in an assignment. Today, if I drink coffee after 4pm. I have trouble falling asleep! The kind of wakefulness that Jesus is demanding of us is one of spiritual awareness of those who are suffering, those in need, and the marginalized. Our spiritual practices of prayer, scripture reading, meditation, and communal gathering for worship, help us to become more aware of and in sync with the needs of those with whom we come in contact.
Falling asleep or lack of spiritual preparation results in missed opportunities to participate with God in a transformative experience and leads us to believe that God is absent from our lives (Isaiah 64:7). On the other hand, an alertness to both the opportunities and the Divine call to walk with God during our trials and tribulations, strengthen us to make good use of the spiritual gift with which we are endowed (1 Corinthians 1:7).  Those spiritual practices which keep us open to God's restorative light (Psalm 80) work to keep us grounded and attentive to the pressing needs of the present moment (Mark 13:33-37).
Earlier in the service we joined in the lighting of the Advent Wreath. May the light of that first candle, the symbol of hope, strengthen and comfort us and serve as an anchor through the storms of life as John in 1:4-5 assures us: "In him was life, and this life gives light to everyone. The light shines through the darkness, and the darkness can never extinguish it."
Amen.