Posted somewhat belatedly …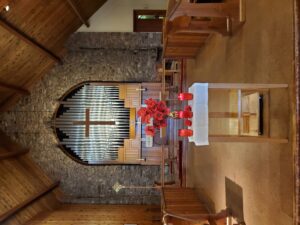 October-November has largely been a holding pattern at All Saints', but as Advent approaches, some glimmers of hope are appearing on the horizon. The province has continued to be in red-alert level lockdown, and as long as that remains the case we will be worshiping on Zoom only. We still do not know when we will be able to share Eucharist again, and the worship committee will be meeting soon to finalize plans for Zoom Advent and Christmas.
However, with very encouraging news on the vaccine front over the past two weeks, we are feeling some fresh hope that we might soon, at least, be able to have plans and a timeline for what the post-pandemic reality will look like.  In many ways, this pandemic Advent – like pandemic Lent, back in March – will feel more genuinely "Advent-y" than perhaps any previous Advent. We are waiting, helpless but hopeful, for deliverance that has been promised but has not yet come. The texts and songs of Advent will resonate in new and powerful ways this year.
This past month, we celebrated All Saints' and Remembrance Sunday with services that were no less moving because they had to be on Zoom, and then on November 15, had the honour of hearing Peter Lekx's first sermon as our intern. Our virtual Christmas Bazaar and Christmas outreach plans are shaping up nicely, with many enthusiastic volunteers; distribution will take place on November 28 along with the Advent Care Packages, and then another all-parish package will be distributed two weeks later, consisting of shortbread for Lessons & Carols; 2021 pledge envelopes; and the Christmas letter.
Diocesan Synod, having been postponed from June, took place via Zoom on November 14. All Saints' was well represented and everything went remarkably smoothly. The renewed emphasis on combating anti-Black racism in the diocese dovetails nicely with the work we were already doing, while also requiring us to keep in mind the multiple marginalized communities with which we hope to build relationships.
The Corporation has continued to meet weekly and to supervise the building projects that we are getting done during this period of waiting. There have been upsides to the building sitting mostly unused for months on end!  But we are all eagerly awaiting the time when we can emerge from this stasis and safely meet together again.
As always, please reach out if you have questions, need support, or just want to chat!
Peace,
Grace+