All Saints, Dorval
December 13, 2020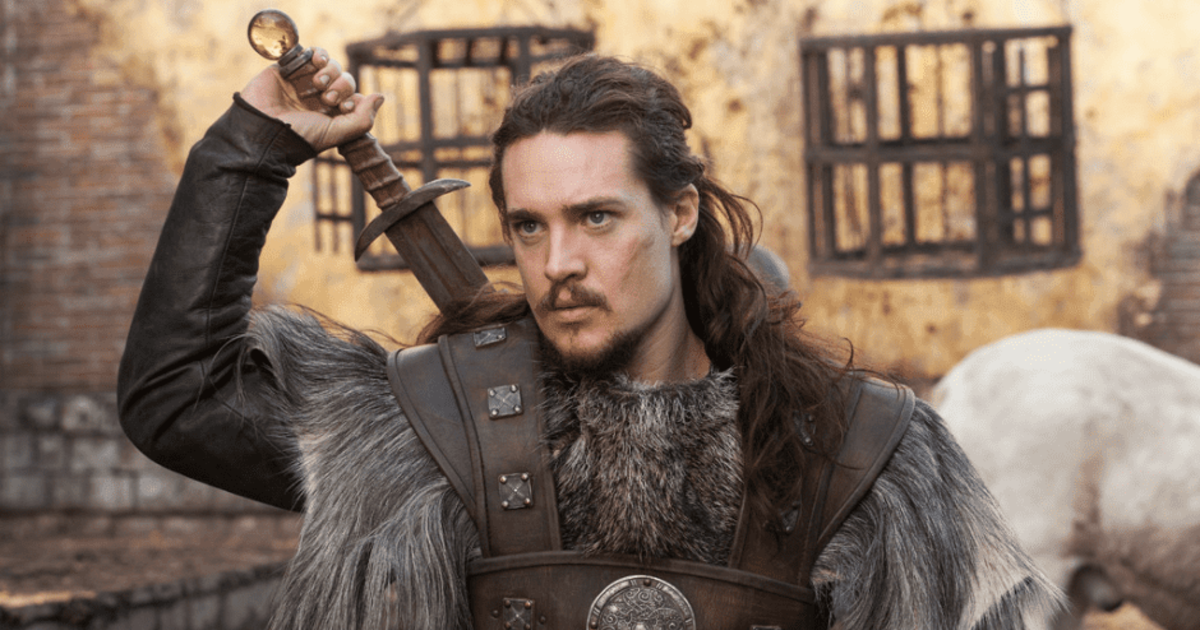 Alexander Drymon as Uhtred of Bebbanburg in the TV series "The Last Kingdom"
Rejoice always, pray without ceasing, give thanks in all circumstances; for this is the will of God in Christ Jesus for you. Do not quench the Spirit. … hold fast to what is good; abstain from every form of evil.
These are some of the very earliest words written in the Christian scriptures, sent by Paul around 50 AD to the fledgling congregation at Thessalonica. The Thessalonian church was worried, among other things, because the promise that Jesus Christ would return soon was showing no signs of fulfillment, and some of their members had begun to die. Paul spent much of the letter reassuring them that regardless of the exact timing of Jesus' return, none of them would be left out of God's new and eternal life.  And he closed with this simple advice – advice that is nevertheless enough to spend a lifetime obeying.
From the very beginning, faith in Jesus has incorporated a sense that things might be coming to an end in the very near future. Generations of Christians, despite being warned by Jesus not to try to guess the day or the hour, have nevertheless looked around at their situations and thought that the world was in such a lamentable state that God must be coming back soon. It seems to be a universal human impulse to look back to the good old days and think that things now are going to the dogs.
In Bernard Cornwell's "Saxon Stories," a series of novels about a warrior in ninth-century England, there's a scene in almost every book in which Uhtred of Bebbanburg, the protagonist, visits a city or fort originally founded by the Romans, and reflects on how much mightier and more skilled those ancient people must have been, in order to create such large and impressive buildings. Buildings which are now (circa the year 900) lying mainly in ruins or being scavenged for stone to build stables, churches, and peasant huts.
Uhtred himself hopes only to regain his own ancestral lands and stave off chaos long enough for his children and grandchildren to be safe and prosperous; he has no concept of what might come beyond that horizon.
We might be forgiven for having similar feelings today. Everywhere we look, institutions are crumbling, old certainties are being overturned, and, in the words of Yeats, "things fall apart, the centre cannot hold".  The pandemic has only accelerated the revelation of how broken many of the structures we rely on are: our economy dependent on dirty fuels, our society riddled with racism, and technology – despite its undeniable benefits – sowing misinformation and increasing our stress levels.  Every time we use the phrase "back to normal" to refer to the time when the coronavirus will be under control, it reminds us that actually, there was a lot about that normal that we might not necessarily want to go back to.
So, does this mean that we simply pick up the Advent theme of waiting for Christ's return, and sit quietly and hope for God to come back and sort it all out?
Not according to the prophet Isaiah, it doesn't. His vision of the renewal and restoration of Israel is an active, not to say activist, one:
The spirit of the Lord GOD is upon me, because the LORD has anointed me; he has sent me to bring good news to the oppressed, to bind up the brokenhearted, to proclaim liberty to the captives, and release to the prisoners; to proclaim the year of the Lord's favor, and the day of vengeance of our God; to comfort all who mourn … They shall build up the ancient ruins, they shall raise up the former devastations; they shall repair the ruined cities, the devastations of many generations.
According to Isaiah, it is possible to rebuild. It is possible to bring things back, or to make them new. When the divine deliverance that we hope for is delayed, we abide in our faith in God while getting to work ourselves. Even in the face of powerful resistance, progress can be made.
Isaiah speaks of bringing good news to the oppressed and proclaiming liberty to the captives. On Monday, a new district attorney was sworn in in Los Angeles, and within hours had announced a sweeping list of reforms, from suspending the use of the death penalty, to releasing people serving long sentences for nonviolent crimes, to diverting first-time offenders into services rather than incarcerating them.
Isaiah speaks of repairing ruined cities and the devastations of many generations.  Here in Montreal, despite the pandemic, the city government is pressing on with a comprehensive plan to green the city, working on addressing climate change, a threat to human well-being even more pervasive than the coronavirus.
Isaiah speaks of binding up the brokenhearted.  And in our own diocese, at Synod last month, we made a commitment to address the longstanding brokenness of racism within the Anglican Church, and just last week I began conversations with the Territory of the People that we hope and trust will result in an ongoing partner relationship with a First Nations parish there.
Rebuilding is possible. The trajectory is not always relentlessly downward. It may be hard and slow and tiring, and the results may not always be clear, but hope and possibility always remain. We are called to live as though things can get better, even when that idea seems like a distant dream.
Think of Uhtred of Bebbanburg, the ninth-century Saxon who visited the Chester and London of his time and tried to wrap his head around how the Romans could have built on such a grand and impressive scale, when the people of his own time were reduced to using wood and scavenged stone.  What would he have thought had he been able to gaze upon the London of 1400, or 1800, let alone the London of today?
It is very possible that we won't see the fruition of our efforts. As a Jewish proverb reminds us, we are not obliged to complete the work, but neither are we free to desist from it.
In the end, the new creation is up to God, who will one day bring the whole cosmos into that eternal life where there are no more tears and no more death.  But in the meantime, we have a remarkable chance to choose to recreate our world in ways we might not have imagined but for the crises of the past year.
We can't do it alone, but we can choose to be co-creators with God. God's work is inseparable from our honest efforts.  We can hold fast to what is good while also beginning, in faith and hope, to set one stone upon another to build God's new creation.
It is not clear, in the chapter of Isaiah from which we read today, exactly who the "I" in the prophecy refers to.  Is it the prophet himself?  Or is he describing another figure in whom the people are placing their hopes?
But perhaps the ambiguity can work to our advantage – because each and every one of us can be the one whom the Lord has anointed, whom God has sent to bring liberty to the captives and comfort to those who mourn, to proclaim the year of the Lord's favour and to lead the people in the restoration of their society and the renewal of their hopes.
This Advent, as we wait in faith, may we also begin to build.
Amen.