This post will be updated as plans develop!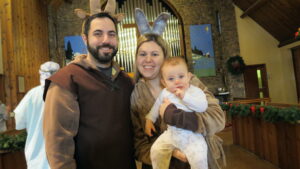 Despite the lockdown, we're keeping busy, praying, planning, and reaching out at the holidays!
Lessons & Carols will take place on Zoom at 4 PM on Sunday, December 13, and there will be a virtual Christmas pageant produced as a video that will be available for viewing shortly before Christmas. People of any age are welcome to participate – you will receive instructions about what to do, and the only requirement is being able to film yourself on a cell phone or other device.  The deadline for signing up to be in the pageant is November 23.
Meanwhile, November 28 is the target date for lots of pickups and deliveries!
Laura Hill and her merry band are coordinating Christmas face masks, knitting, and baking as a fundraiser. The face masks are $10 each and can either be picked up from the church or dropped off as part of the Nov. 28 deliveries. You can place your order with Jennifer.
Also to be distributed that weekend are Advent care packages for use in your home devotions during December.
We are collecting non-perishable items and monetary donations for Christmas baskets, the same number as in previous years, three for Dorval Community Aid and three for Christian Action Chrétienne.
The St. Michael's Mission Christmas tree will be up on November 23 at the church and donations can be dropped by or picked up by those making deliveries on the 28th. As always, items needed include warm socks, new underwear, toiletry items, hats, mitts, hoodies, scarves, and so on. Bob Morell will take these donations to the Mission to be distributed at their Christmas party on Dec. 21st.
In addition, in order for us all to be able to enjoy our shortbread reception after the Lessons & Carols service on December 13, a delivery of cookies and a prayer will be made before that occasion.
Volunteers are needed for the following tasks:
Making facemasks.  A pattern will be provided if you wish to use it.
Baking and delivering to the church on Friday, Nov. 27 or Saturday morning. Nov. 28.
Driving and delivering the Advent packages, etc., the weekend of Nov. 27/28.
Please contact Laura if you can help with any of the above activities
Volunteers are also needed to help package the Christmas baskets.  Please contact Darlene Scott if you can help.
Thank you so much!!