All Saints', Dorval
November 1, 2020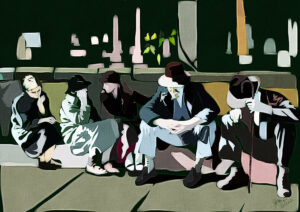 "Blessed are they that mourn" by Jennifer Buerkle
Blessed are those who mourn, for they shall be comforted.
There is so much grief in the world today. Grief for loved ones lost to COVID-19. Grief for the senseless waste of life and human potential caused by racism and other forms of oppression. Grief for lost visits to loved ones, lost travel, lost opportunities, and lost livelihoods as we all struggle to contain the pandemic. Grief for the larger issues, like climate change, that are waiting to be taken up again once this immediate crisis is past. The smaller, but nonetheless real, grief that today, on our patronal festival, we are not all together in a packed church singing and baptizing babies while their siblings and cousins run around.
And yet there have been so few chances for us to truly mourn. We cannot gather for funerals and sing and cry together in church. We cannot have large public gatherings and hold vigil for the lost. There has been a startling absence, even in the media and in our virtual gatherings, of acknowledgement at the tremendous amount of loss that we have suffered. Canada's death toll stands at just over 10,000, almost a quarter of the casualties the country sustained in the Second World War.
Whenever, by the grace of God and with rapid testing and a vaccine, we are able to resume something resembling the normal rhythms of life – I suspect that it will nevertheless be a long time after that, before we have truly worked through all the trauma of this time.
Mourning is not fashionable in the 21st-century West.  It doesn't contribute to economic growth.  It doesn't fit into our hurried-up timelines. We get our few days of bereavement leave from our employers, and then we just go back to business as usual, hiding our tears from all but our very closest friends and family.
But Jesus says that those who mourn are blessed.
And not just because they will be comforted – they are blessed here, now, by virtue of being in mourning, not because some day they will get over it and get back to normal.
And as I began to think about it, it occurred to me that in a very real way, all the other Beatitudes arise out of the fundamental state of being in mourning.  But you have to be in mourning, you have to acknowledge your grief and befriend it, you have to sit with it, let it take you apart and remake you into a new person, let it burn away what's nonessential and leave you finer, stronger and more focused than before. If you allow grief to make you selfish and bitter, then you are still blessed – God's blessing is not conditional – but the mourning work must begin afresh.
But if the work has been done, if we have truly grieved a great loss and let it rearrange our priorities and remind us of what's important, then we will be poor in spirit, because we will see everything in proportion and understand that what we own is the least important thing about us. We will be meek, for we will understand just how small we are and how large God is. We will hunger and thirst for righteousness, because we will want to spare anyone else, ever, from suffering the results of injustice, negligence, and cruelty. We will be merciful, because we will understand the lengths that people are sometimes driven to by sorrow, anger, and fear. We will be pure in heart, because anything other than purity has been refined away. We will be peacemakers, because peace and justice must go hand in hand.  And we may well be persecuted, because when you no longer care what anybody thinks of you, butting heads with the powers that be is very likely to be one of the results.
I think of the family members of George Floyd and Breonna Taylor and the other victims of racism and police brutality, somehow finding the strength, in the midst of their grief, to speak out and stand up and declare that this is wrong and it must stop.
We mourn, and we are blessed – and out of the mourning, and the blessing, arise all these other riches.
Perhaps we need to wonder whether part of the definition of a saint is "one who mourns" – one who sees with clear eyes the deep grief of the world, its injustice and cruelty, its sin and suffering, its alienation from God, and who nevertheless finds a way to wrestle blessing out of that mourning.
And God promises that they will, indeed, be comforted.
"These are they who have come out of the great ordeal," says one of the elders to St. John in Revelation. "They have washed their robes and made them white in the blood of the Lamb. For this reason they are before the throne of God, and worship him day and night within his temple, and the one who is seated on the throne will shelter them. They will hunger no more, and thirst no more; the sun will not strike them, nor any scorching heat; for the Lamb at the center of the throne will be their shepherd, and he will guide them to springs of the water of life, and God will wipe away every tear from their eyes."
We've been working through the Revelation to John in Evening Prayer over the last few weeks, and it is a very strange book. It stubbornly resists logical analysis, and indeed those who have tried to approach in as though it were a legitimate prediction of actual events have caused untold horrors thereby.
But Revelation, with its bizarre, exaggerated images and its themes of a grand battle between God and the powers of this world, has a word to speak into these times, if we have ears to hear. The way to read Revelation is not to analyze it or try to make it make sense – it's simply to let it wash over us, to soak up the imagery and the mood, and to enter into its deep, scathing anger at injustice and pain, and its soaring hope for God's deliverance.
And the most fundamental promise of Revelation – the promise with which the story of scripture reaches its "happily ever after" – is that our tears will be wiped away. Not that those tears weren't real, or weren't warranted – they very much were. The wiping away of tears does not negate the loss from which they flowed, or the growth that rose out of it.  But the wiping of tears is part of the blessing.
We are, in many ways, in the midst of something that Revelation might describe as "the great ordeal". Like the saints, we will not emerge unmourning, or unchanged. But in the midst of great grief and upheaval, God is present and working. The great saints – that blest communion, that fellowship divine – goes before us and shows us how to transmute loss and pain into blessedness.  And we know where this journey ends: at the springs of the water of life, before the Lamb on the throne, who will wipe away every tear from our eyes.
Amen.