All Saints', Dorval
October 4, 2020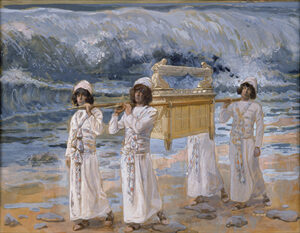 James Tissot, "The Ark of the Covenant Crosses the Jordan"
Beloved, I do not consider that I have made it my own; but this one thing I do: forgetting what lies behind and straining forward to what lies ahead, I press on toward the goal for the prize of the heavenly call of God in Christ Jesus.
The theme of belonging is woven through today's readings. In Paul's letter to the Philippians, he presents an extended meditation on what does and does not belong to him, what he does and does not possess.  In his previous life, he was possessed of an intense conviction of his own achievements in righteousness and of the necessity of persecuting followers of Jesus; now, after his conversion, "whatever gains I had," he writes, "I have come to regard as loss because of Christ." What had belonged to him previously, what he had clung to and rejoiced in possessing, no longer seems to matter at all, and what he longs for instead is "the surpassing value of knowing Christ Jesus my Lord."  He repeats several times that he has not yet attained this object of his desire, but "press[ing] on to make it my own" is the overriding concern of his life.
In fact, one might turn the whole idea of belonging, of Paul possessing anything, on its head, and conclude from this passage that Paul is no longer concerned with what belongs to him, but with whom he belongs to: Jesus.
A similar dynamic can be observed in the reading from Exodus. On the surface, much of the text of the Ten Commandments would seem to be preoccupied with belongings, the things that we possess. Two of the commandments address them directly – "you shall not steal" and "you shall not covet" – in other words, don't take other people's belongings, and don't even let the desire for other people's belongings become so powerful that it takes over your life.
Arguably, in a patriarchal society in which wives were seen as belongings, the commandment not to commit adultery also falls into this category.  And the commandment about sabbath keeping – a couple of verses of which are left out of today's reading, for some reason – emphasizes the duty of the master of the house to make sure that all his "belongings", human and otherwise, refrain from work on the seventh day: "you shall not do any work – you, your son or your daughter, your male or female slave, your livestock, or the alien resident in your towns."
But this is all in the latter part of the list.  The very beginning makes it clear where the real relationships of belonging lie: not between the people and their stuff, but between the people and their God. "I am the Lord your God," declares God, "who brought you out of the land of Egypt, our of the house of slavery; you shall have no other gods before me." When I tell this story with the felt board in Messy Church, the script says: "The people promised to be God's people, and God promised to be their God." Each party of the covenant belongs to the other.
And while, of course, God can be said to belong to the people in the sense of being their God, the idea that people can possess God in any meaningful sense is absurd; the trajectory of belonging runs much more strongly in the other direction, in the sense that the people belong to God.  That God made them, and loves them, and has a claim on them; that they are defined by being God's people. The reason God has given them commandments is not because God is interested in checking off boxes and enforcing rules for their own sake, but rather because the commandments are God's way of enfleshing the covenant, of making their belonging to each other a real and living thing, something that has meaning in and impact on their lives.
These things, God says, these commandments:  this is how the world will know that you are my people, that you belong to me.
And centuries later, when Paul in his turn lived by these commandments, what he got wrong was not the following of the laws themselves, but rather the fact that he treated following the law as a competition, in which he could win and possess the prize, rather than as a way of humbly showing what God he belonged to.  And when he encountered Jesus, the living presence of that God, all his values and priorities were turned upside down and he rediscovered the joy of simply belonging to the One who had created him.
And the relationship of belonging between God and God's people is not simply between God and each individual, or even between God and the group as a whole. The people also belong to each other, and they express that belonging by following the commandments – again, not as a joyless obeying of rules, but as a living expression of their identity.  It is doing these particular things, they say, that makes us who we are, that expresses that we belong to each other and that we belong to God.
But of course part of belonging to each other and belonging to God is the continual discernment and rediscovery of what is God's will and how the community can best live it out. The commandments themselves are timeless, but how they are obeyed, how they are expressed, how they shape the identity of the community and show forth its relationship with God, changes over time.
In our own time, one of the ways in which we need to think about how we belong to each other and to God, is in the light of another relationship of belonging:  how we belong to the earth, to God's good creation in which we have been placed to tend and care for it.
Today is the feast day of St. Francis, and the conclusion of the month-long "season of creation" which was established recently in the Anglican Church of Canada. This season was added to our church calendar in order to remind us that how we treat God's creation is as important as any other part of our life of faith.
Too often, we have acted as though the creatures and the resources of the earth are our belongings, to be used, disposed of, and exploited as we wish.  But when we see our lives as belonging to God and to each other, we realize that the earth and all the living things on it are part of that relationship; that, in fact, we belong to them, not the other way round, and we all together belong to God.
And so, we read and say Paul's words with new understanding:
Beloved, I do not consider that I have made it my own; but this one thing I do: forgetting what lies behind and straining forward to what lies ahead, I press on toward the goal for the prize of the heavenly call of God in Christ Jesus.
The heavenly call of God in Christ Jesus – it is grounded in the knowledge that we belong to God, to each other, and to God's creation.  All our right living begins with that understanding.  And that is the goal that is the only thing on this earth worth possessing.
Amen.