A week from Sunday, we will gather for our first Annual Vestry as the Parish of All Saints by the Lake.  There is much to reflect on, to celebrate, and to plan.  Here are a few notes so you know what to expect:
We have been getting an excellent response to our requests for people to be nominated to leadership.  It's so great when there's energy and excitement about being involved!
We're not yet ready to name full committees for the groups described in my prior post about nominating, but we're getting there – and if any of those subjects interest you, please speak up!
We'd love to offer childcare, but are having a heck of a time finding someone to do it.  If you know a qualified person, please let me know! (And we would have periodic jobs to offer them in the future, not just this one.)
We'll be talking about the Strategic Plan, and the Action Plan that is being generated from it and the input from the Talking Circles.  Watch this space for a post about that next week!
Meanwhile, here is my Report to the Annual Vestry for 2019.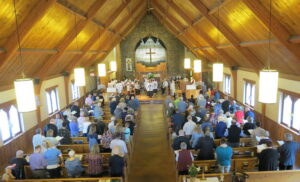 Incumbent's Report to the Annual Vestry, 2020
The Rev'd Grace Pritchard Burson
All Saints by the Lake, Dorval, Quebec
2019 was an extraordinary year at the church on Lakeshore Drive in Dorval. For one thing, we began the year with one name and ended it with another.  The process of getting there was not as straightforward as it should have been, a fact for which I bear a significant portion of the responsibility; but get there we did.  I am grateful to those who served on the name change task force and those who suggested potential names, and I am proud and deeply glad to call myself the incumbent of All Saints by the Lake.
In tandem with the name change, we met for five weeks in Lent of 2019, led by Canon Neil Mancor, to discuss our history, our place in the community, and our gifts and values as a congregation, and we emerged with a newly articulated mission of "Reconciling, Affirming, Rejoicing".  We were also able to engage my friend Phoebe Titus, a professional graphic designer, to help us rebrand the parish, creating the bright and attractive new logo that combines images of waves, anchors, crosses, and halos to express our identity.
All these changes have made it easier to up our communications game, both on paper and online, including with sermons and blogs posted on my website (www.gracepritchardburson.net) and shared to social media, and attractive letterhead featuring the new name and logo.  In October, Camille Isaacs-Morrell took over the newsletter and has done a bang-up job so far. I also experimented with a fun series of Facebook Live videos profiling members of the congregation – and would be happy to do more if anyone wants to volunteer!
We celebrated our first Holy Week and Easter together, walking through the central events of Jesus' suffering, death and resurrection, combining new traditions (marching outdoors on Palm Sunday) with old (keeping vigil before the Reserved Sacrament overnight after the Maundy Thursday service) and striving to respect the customs and practices of both antecedent parishes while creating a new way of worshiping together.
In my capacity as chair of the Worship Committee, I convened that group roughly once a month in 2019. In addition to planning and debriefing on both regular and special worship services, the Committee also oversaw the alteration of paraments from the Church fo the Resurrection for use on the altar in Dorval, and created and distributed a survey to the congregation in the fall to solicit feedback about the worship services.
In 2019 Messy Church met monthly (except in July and August) with continued good attendance and energy. Many of the families who have come into the parish community through Messy Church (as well as several others) have begun to attend, at least periodically, on Sunday mornings as well; this trend became particularly pronounced toward the end of the summer, leading to the creation of a role for a designated attendant for the children's area in the chapel at the 10 AM service. Several elementary aged children have also trained as servers and participate regularly in the worship service in that role. Young children and their parents participated in a Good Friday event and in the Christmas pageant, as well as in other parish activities such as packing Christmas baskets.  There were 2 baptisms in 2019 – fewer than in 2018, but both baptismal families in 2019 have remained involved in the congregation, perhaps as a result of the new practice of building relationships by inviting each family to serve as "parish sponsors" for the next one.
And children were not the only ones who met to learn and grow in faith in 2019.  In addition to the Lenten program, there were many other opportunities for Christian formation for adults this past year, including regular weekly Bible study; a workshop on the Daily Office in October; a group gathering at members' homes for monthly potlucks to read through The Path, an abridged version of the Bible; and an online study of the gospel of Matthew, thanks to Montreal Dio.  One of my greatest joys as a priest is watching people light up with enthusiasm for learning more about their faith, so it is a pleasure to have so many different contexts to do it in!
Of course, the year brought sorrow as well as joy, including funerals for Roy Horner and Penny Noël, and for Elizabeth Muir, sister of Nancy Hamilton. And a farewell of a different kind took place in October, as – after many months of negotiations – the Diocese closed the sale of the property at 99 Mount Pleasant Street, former home of the Church of the Resurrection.
With large sums at stake and many plans we wished to carry out, we decided to be more intentional about stewardship going into 2020, and asked the congregation for pledges of their giving intentions, receiving a solid response with more than $86,000 pledged. Seeing our whole lives in light of our stewardship of God's gifts is an ongoing undertaking.
At the same time as the stewardship campaign, we were developing a strategic plan, first drafted by me and the Corporation, then shared with a small group, and presented to the whole congregation in October for further refinement.  The next step is to formulate an Action Plan for translating strategy into reality.
My continuing education in 2020 was threefold:  a silent retreat in February; a week at the School of Peacebuilding at Canadian Mennonite University in Winnipeg in June, learning about indigenous perspectives on salvation, reconciliation, peace and justice; and a week with colleagues in North Carolina in September, reflecting on vocation, health, financial and spiritual wellbeing.
There are many aspects of our parish life that I have not even mentioned here, but which are ably covered by the other reports in this booklet.  It continues to be a joy to work with Chris at the organ, Jennifer in the office, and Tim keeping everything shipshape.  Meanwhile, if I tried to name and thank everyone who contributed to our ministries, or simply offered love and support to me and to each other this year, this report would be twice as long and I would still forget someone!
Amid reports of the continued numerical decline of the Protestant mainline churches in Canada, All Saints by the Lake is defying the odds, growing in numbers, in faith, and in our threefold goal of "Reconciling, Affirming, Rejoicing." I give thanks every day for all of you, and I can't wait to see what 2020 brings!
In God's peace,
Grace+
Appendix:  Mission & Vision Committee Report
At the beginning of 2019, we intended to get a Mission & Vision Committee up and running as one of the parish Standing Committees.  A group did meet with Neil Mancor in March prior to the Lenten program whose task was to discern the mission and vision; this group included Nancy and Ross Hamilton, Camille Isaacs-Morell, Frank Dottin, and Raymond Noël. This group helped to plan the Lenten conversations and then was present to guide them.  However, as the year  went on it became clear that keeping Mission as a standing committee was not the best use of energy and resources, so the committee is no longer operational.