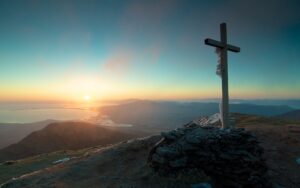 We're (rightly) focused right now on preparing for Lessons & Carols, the Christmas pageant, Christmas basket delivery, and Christmas Eve services, but here's a heads up about some exciting things happening in January and February!
The Montreal Diocesan Theological College is offering another online course running from January 28 to February 18, this time on the theme of "Wholeness and Holiness: Reconciliation in the Church and in the World." Needless to say, this is an excellent opportunity for us to dig into the concept of Reconciliation, the first of the three themes of our mission statement, as we figure out what it means for us!  The course takes place from 7-8:30 PM on four consecutive Tuesday evenings, and is taught by the Rev'd Dr. Jesse Zink, Principal of the College.
On Saturday, January 25 (exact time TBA), we will gather as a parish for a Talking Circle event, led by Canon Neil Mancor.  We will have the chance to discuss the various elements of the Strategic Plan in much more depth than is allowed by a Parish Meeting, and give additional input that will shape the Action Plan to be presented at the Annual Vestry.  Please plan to be there!
Finally, in response to the worship survey, three Sundays (January 19 and 26, and February 2) will be devoted to reflecting on how we worship and why we do things the way we do.  Elements of instruction will be incorporated into the worship service, and there will be a chance for feedback, questions, and learning immediately following the coffee hour.
With these opportunities for conversation, fellowship and learning, hopefully the dark and cold days of winter will be a bit warmer and brighter!