All Saints by the Lake, Dorval
Sylvia Edna Forbes Biley Tomsons
December 10, 2022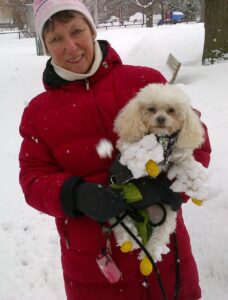 Search me out, O God, and know my heart; try me, and know my restless thoughts; look well whether there be any wickedness in me, and lead me in the way that is everlasting.
Nobody is perfect, but I have to say that I have rarely encountered anyone who had less "wickedness" in her than Sylvia Forbes Tomsons. She was a person of extraordinary generosity, kindness, and patience. She was the embodiment of Paul's exhortation in the letter to the Thessalonians: "See that none of you repays evil for evil, but always seek to do good to one another and to all. Rejoice always, pray without ceasing, give thanks in all circumstances; for this is the will of God in Christ Jesus for you."
Throughout Sylvia's journey with cancer, she and Dave showed up almost every day in the Zoom Evening Prayer sessions that All Saints' had begun when we locked down for COVID in March of 2020. Of course, the group lavished prayers on them, but even in the midst of their hardest and scariest days, Dave and Sylvia were constantly giving thanks for all the good thing in their lives: the sunshine and the snow, the birds and the flowers, the healthcare professionals who were guiding them through Sylvia's treatments, and especially their friends and family, whom Sylvia loved so deeply and who couldn't help loving her in return.
"Rejoice always, pray without ceasing, give thanks in all circumstances."
Sylvia was a deeply humble person who preferred to be involved behind the scenes: here at the church, she served on the Altar Guild – the group that cleans and decorates the church and sets up for services like this one. She and Dave were part of the Coffee Hour rotation, making sure that after Sunday services folks had a cup of something hot to drink and a goodie to share. They were the ones who every year made sure that the outdoor Nativity scene was set up outside the church, to broadcast the joy of Christmas to every passersby. And they helped for many years with Messy Church, in which a wonderful group of older folks served a meal to a group of younger families and gave the parents a much-needed break. Very much in character for her: feeding people, keeping things looking beautiful, making sure that people were cared for, sharing love.
If anything, I only wish that Sylvia had been a little more willing to share her thoughts and talents with the world. Right before COVID lockdown, we were assembling a group to start thinking and planning about possible building renovations, and I invited Sylvia to be part of it. She claimed she had nothing to contribute. I pointed out that as someone who spent a lot of time in our kitchen, she almost certainly did, given that the unsatisfactory nature of the kitchen was a big piece of what we were hoping to address!
That group met only once before lockdown, and by the time we reconvened this year, the state of Sylvia's health made it impossible for her to continue to be part of it. I will always regret that we did not have the opportunity to draw out her wisdom as part of those conversations.
"Come unto me," said Jesus, "all you who are weary and carrying heavy burdens, and I will give you rest. Take my yoke upon you, and learn from me; for I am gentle and humble in heart, and you will find rest for your souls."
"Gentle and humble in heart," describes Sylvia to a T. And her life was certainly not without its share of burdens: being widowed too young, undergoing two grueling years of chemo. But she never repaid evil for evil, seeking instead always to do good to all. She lived in a beautiful network of love and mutual support from family and friends, and created beauty wherever she went. Thanks to her faith in God, her yoke was easy and her burden was light.
And now, she is face to face with the source of all love and beauty, who knows her completely and has loved her since before she was formed in the womb. So, we who are left behind grieve, because the love that Sylvia shared is no longer here for us in her physical presence. But none of it is lost. So let us follow her example, and rejoice always, even in the midst of our grief; pray without ceasing; and give thanks for the gift from God that she was.
Amen.