Incumbent's Report, August 28, 2022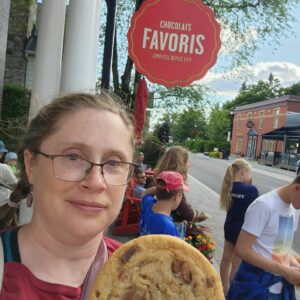 Me at Chocolats Favoris in Lévis, July 9
A great deal has happened since our last Parish Meeting! The month of June began with a bang, with a very full weekend including the last outdoor Messy Church of the spring, a successful Garage Sale, and the celebration of five confirmations and one reception into the Anglican Church, presided over by Bishop Mary. The following weekend was also a banner occasion, as we baptized Rebecca and Peter's oldest son, Jonathan. I returned to Bayview Centre for a second monthly service in June before taking the summer off. We have at least two more baptisms planned for the fall.
COVID remains an active concern, but mercifully, the almost complete elimination of provincial restrictions does not seem to have led to another "wave". All Saints' has continued to require masks inside the building during worship and most other events, but a check-in on the subject is on the agenda for this week's meeting. We will also hear updates about the various building projects, including the plan to add additional ventilation and ultraviolet light to our heating and cooling system for ongoing protection from pathogens.
The Building Projects Committee met three times in May and June to resume the conversation about the changes that need to be made to our building and how to coordinate them to minimize effort and expense. We anticipate wide-ranging conversations on sacred space and on our future hopes and needs, starting at the next Parish Meeting, in late September.
Wednesday Morning Prayer and Bible Study has continued to meet, mostly on Zoom, with a new start time of 10:15. Participants are welcome to come to the church in person as well. However, as I wrote on my blog last week, attendance has been quite sparse, and it's possible that another time or format for studying Scripture would work better for the congregation going forward. If you have any ideas, please share them – and if you really want the Wednesday format to continue, please try to show up during September!
We said farewell to Jennifer Gibb with a delightful tea party on the lawn at the end of June, and Laura Lunt has worked valiantly under far from ideal circumstances to get up to speed as our new Administrative Assistant. Thanks to everyone who has helped her out and continues to do so!
The main reason why the circumstances were far from ideal, of course, is that I took a week of vacation (more or less) at the end of June, another in mid-August, and in between I was at the Université Laval for their five-week summer program. Given that I was still in touch with the parish (not to mention my family and friends) by phone and email, it wasn't a full immersion experience, but I still learned a great deal – perhaps even more on the various excursions and at the social events than in the classroom – and I certainly improved my confidence in spoken French. My classes were "Exercices de style" and "Parole en public" – the latter was particularly interesting as I tried to transfer at least some of twenty years' public speaking experience in English, into French! Having returned, I'm grateful to those who held down the fort while I was away, and to those who have prompted me to speak French since I returned – now I just have to find some more consistent ways of practicing!
As we meet this August, we're looking toward a resumption of "real" Messy Church and the first Welcome Back Barbecue since 2019, both in September. I hope to see many of you there!
Peace,
Grace+