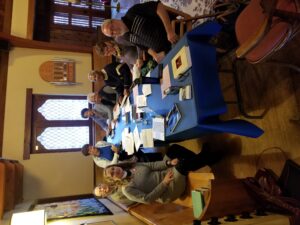 Before COVID-19, All Saints' had a weekly Bible study (from September to June) on Wednesdays, with prayers at 10:00 and discussion from 10:30-11:30. We had a steady group of 4-6 "regulars" and sometimes as many as a dozen people attending. This was one activity that did not transition to Zoom during the lockdown.
We resumed the Wednesday study hour in Advent of 2021, making it available simultaneously on both Zoom and in person in the church building. Attendance has been very minimal, frequently with only one person attending. It appears that it may be time to rethink this program and whether it is meeting the church's current needs.
At the time of the shutdown in March 2020, we were also a little more than halfway through a study of Scott Gunn and Melody Wilson Shobe's book The Path, a guide to the whole Bible from Genesis to Revelation. We tried one session on Zoom, but without the potlucks that were part of the experience, it just wasn't the same.
Clearly, there is a hunger for reading and studying Scripture at All Saints – and it's one of my favourite parts of ministry. But maybe it's time to switch to another way of nourishing that hunger. For now, we will restart the regular Bible Study on Wednesday, beginning on September 7, with prayers at 10:15 and conversation from 10:30-11:30. If having Bible Study at that time is important to you, please plan to show up during the month of September! If another format would work better, please let me know your suggestions! Thank you, and let's figure out how to gather together around God's word!