ALL SAINTS BY THE LAKE DISCRETIONARY FUND POLICY
MAY 2022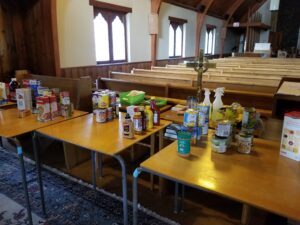 The Incumbent has an annual budget of $200 allocated for discretionary fund expenditures. It has already been spent (and then some) for 2022.
Starting in 2023, at the beginning of the year the $200 will be spent on IGA gift cards in denominations of $50. Any requests that cannot be met via the gift cards will be referred elsewhere.
Parishioners are welcome to make donations of additional gift cards, or of cash (which will be converted into gift cards).
If the cards approach their expiration dates and/or the end of the year without being used, they will be added to the Christmas baskets and/or used to purchase food to be distributed via Dorval Community Aid.
Under no circumstances will cash ever be distributed in response to discretionary fund needs.
If there are urgent needs within the congregation that cannot be met via the above methods, discreet efforts may be made to ensure that a response is possible.