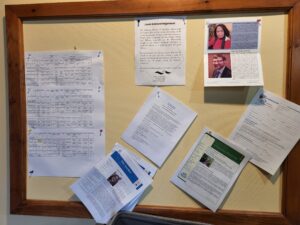 Employment Opportunity
Parish Administrator      
Anglican Church of All Saints by the Lake
865 Lakeshore Drive, Dorval, QC H9S 2C7
Role Summary:
In addition to the job functions listed below, the Parish Administrator role includes an overall approach that is supportive and pastoral to the parish as a whole.  The Parish Administrator will always maintain appropriate confidentiality about pastoral concerns and other sensitive information, and in their role as the primary point of contact with both parishioners and others, will be a friendly and sympathetic presence to those interacting with our parish.
Duties and Responsibilities:
Administrative/Office Management
Prepare templates for all documents used during the liturgical year, including service schedules, certificates, announcements, bulletins, and other materials required for services
Open, sort, and distribute correspondence including managing the parish's emails and voicemail
Assist incumbent, corporation members, treasurer, staff and volunteers with document preparation, photocopying, and mailing
Provide contact and deal with inquiries from parishioners, staff, renters, vendors, and the public, by phone, email, or in person
Input and update all parishioners' records in PowerChurch, and generate printouts of parish lists
Call or email newcomers to confirm information provided, prepare nametags and update parish list
Maintain prayer list
Mail cheques and other correspondence
Prepare and print flyers, event tickets, posters, etc.
Maintain office supplies; order Altar Guild and cleaning supplies as requested
Provide support for the annual vestry meeting by coordinating and assembling reports and distributing to parishioners
Maintain and manage parish filing systems for hard and electronic files; ensure meeting minutes are filed
Conduct weekly computer backup ensuring files are available to clergy and corporation
Assist in archiving of parish records and forward to the Montreal Diocese as required
Prepare digital copies for all contracts including maintenance services and rentals
Administer Petty Cash
Control and maintain a list of the distribution of Church keys and Alarm System codes
Communications
Serve as contact person to maintain and liaise with all rental groups including the CPE Dorval Day Care Centre, regular suppliers, maintenance contractors (elevator, geothermal, alarm system, smoke detector and fire extinguisher inspection), City of Dorval
In collaboration with Incumbent, prepare weekly Mailchimp announcements
Email duty reminders and Scripture readings to worship volunteers
In collaboration with editor, compile, format and distribute quarterly church Newsletter
Maintain a Google event calendar
Manage church website and assist in creation of social media content
Rentals
Manage church space rentals in accordance with directives from church rental policy
Issue and track all rental agreements, invoices, and insurance coverage for external bookings
Ensure rental payments are received, and provide appropriate receipt to renter
Coordinate distribution and retrieval of keys to/from renters and document the exchanges
Maintain a rental calendar
Document and maintain an incident reporting log, of all events that result in summoning of external assistance involving police, fire, paramedics, first aid, or emergency repair in support of parishioners, staff, or clients of the church or church property
The list of duties and responsibilities outlined above is representative.  Other duties may be assigned from time to time as required.
Skills/Abilities
At least two years of administrative experience
College or university degree an asset
Excellent verbal and written English language skills; French fluency a significant plus
Ability to interact professionally and effectively with a variety of individuals accessing the church office
Ability to handle sensitive and confidential information appropriately and with discretion
Adept at multi-tasking and ability to meet and manage deadlines
Proficiency with software such as Microsoft Office 365, MailChimp, PowerChurch
Knowledge of social media, especially Facebook and Instagram
Ability to learn new skills, processes, and technologies as needed
Familiarity with the Anglican Church of Canada, including structure, organization and parish life, while an asset, is not a requirement for the position
A criminal background check will be required of the successful applicant
Reports to:
The Treasurer (all financial matters)
The Incumbent (all other matters)
Interactions: Corporation Members, Parish Staff, Parishioners, Volunteers, Renters, Tradespersons, Suppliers, and the wider community
Job Type:  Permanent, Part-time
Hours of Work:        September-June, Tuesday to Friday, 9:30am–3:30pm (24 hrs/week)
July and August, Tuesday, Thursday, Friday 9:30am-12:30 pm; Wednesday 9:30am-3:30pm (15 hrs/week)
The exact schedule is negotiable.
Salary & Benefits:    $22/hour, with annual increases according to diocesan policy.  Supplemental insurance and pension contribution. 3 weeks' vacation annually. 
To Apply:  Submit your resume, cover letter and the contact details of two professional references to the Rev'd Grace Pritchard Burson,
gburson@montreal.anglican.ca
Expected Start Date:  June 20, 2022. Applications will be accepted until the position is filled.