Incumbent's Report, September 26, 2021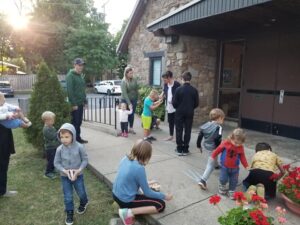 Messy Church on September 10
Well, things are definitely in full swing at All Saints by the Lake. Since returning from vacation in mid-August, my calendar has looked more like it did pre-pandemic than at any time since March of 2020. Sunday morning worship is once again being attended by a three-dimensional congregation, including singing and Eucharist, while also remaining accessible by Zoom. I am making pastoral visits in person again to the Bayview Centre and other residential facilities, and meeting with people on the terrasses of coffee shops and restaurants. The parish hosted its first post-pandemic wedding on September 18th, and I attended the diocesan ordination service at the Cathedral on the 8th. Messy Church had an outdoor, in-person session with sidewalk chalk and pizza on September 10th.
Zoom does also continue to be a significant part of our lives, including the Clergy Conference on "Preaching in a Time of Change" on September 21st, and the Dio course, "Reading Scripture in the Season of Creation", which began that same evening. (After the three people who came to watch the class at the church discovered that we had cricks in our necks from watching the screens in the sanctuary, we decided that we would all tune in from home for the remaining three sessions.) Meeting by Zoom one hour a week (or less) has worked great for the Corporation and will continue indefinitely. If you would like a pastoral meeting via Zoom, please just say the word!
On September 19 we formally commissioned our pastoral intern, Peter Lekx, for a two-year stint with us as he concludes his studies at Montreal Dio in preparation for the priesthood. In this first year, Peter will be focusing particularly on preaching, pastoral care, and worship leadership; next year he will concentrate more on leadership in Christian formation. Peter's Lay Committee will be helping me in the important work of supervision and feedback, but everyone is encouraged to get to know him!
In the coming weeks, we have the Blessing of the Animals on October 3rd at 11:30; the Thanksgiving service on October 10th, followed by All Saints' and Remembrance in November. The Corporation is planning a mini-retreat on the afternoon of October 16. The Diocese is offering Zoom workshops on anti-racism on October 1st and 2nd and children's ministries on October 16. Groups will convene to reflect on the questions being asked by Primate Linda in the "Surprised by the Spirit" program; a Zoom group will meet on October 23rd at 3pm, and another in-person at the church on October 30th, also at 3pm.
I am also working on convening a Confirmation class, so if you've never formally joined the Anglican church and would like to do so, please let me know!
Peace,
Grace+