Incumbent's Report, April 25, 2021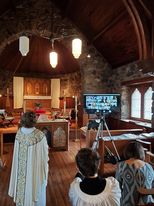 Chatting in the post-worship breakout rooms on Easter morning
It is now the fourth Sunday of our second pandemic Easter season.  Holy Week and Easter 2021 were less frantic than the previous year, thanks to all our accumulated experience of Zoom church and the expertise and effort of our tech, music, and worship folks! We provided at-home worship materials for Palm Sunday, Maundy Thursday, and Good Friday. In addition to the daily schedule of worship services from 2020 – Palm Sunday, Holy Tuesday Stations of the Cross, Maundy Thursday Stripping of the Altars, and Good Friday Tenebrae – we also gathered on Zoom for the Maundy Thursday dinner and footwashing, and the Good Friday singing of the Passion. We did not have our own Easter Vigil this year, choosing instead to participate in the Diocesan Vigil at the Cathedral; instead, we went all-out on Easter Sunday morning, broadcasting from the chapel with Eucharist. In order for as many people to participate as possible, communion bread was consecrated in a special service after the Cathedral Vigil, and was made available for pickup at the church on Easter Sunday morning. It was a profound joy to once again share in the Eucharist as we had not been able to do since March of 2020. We also had palms available for pickup.  Thanks to those who volunteered to bring palms and communion bread to those who were unable to pick up for themselves!
Despite the ramp-up in vaccinations, COVID numbers have been less than encouraging for the past month, hovering around 1300-1500 a day for much of that time. Curfew requirements and rules about the number of people allowed in indoor spaces have been changing constantly; as a result, we are reluctant to make any definite plans for reopening until things settle down a bit. We are hopeful that with the advent of good weather and the continued progress of the vaccination campaign, we may be able to gather outdoors on at least a few occasions this summer. (I'm just sitting here crossing my fingers that the AstraZeneca cutoff age gets lowered by another five years soon!)
This past Sunday, we also hosted a Zoom memorial service for Rex Buckland, who had died in March of 2020. It was a blessing to be able to do this for his family and friends, and many All Saints folks were present.
In other news, Messy Church has resumed after a two-week Easter break; I am preparing a presentation on welcoming and ministering with children and young families for the Diocesan Conference Synod on May 14-15; and the West Island and West End parishes are going to band together for a second annual Zoom Ascension Day service on May 13. On April 23, the Rev'd Angus Muir of the parish of Ashcroft, Lytton and Merritt in the Territory of the People hosted a Zoom call with me, our Wardens, and two key leaders from those parishes in which we continued to explore the possibility of a parish-level partnership.
In many ways it feels very much like we're in a holding pattern, just waiting for something to happen that will let us move on into the "new normal". But despite all, the power of the Risen Christ is active in the world, bringing new life and hope. Eastertide blessings to all!
Peace,
Grace+