All Saints', Dorval
April 2, 2021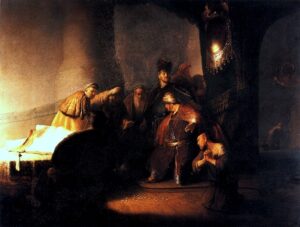 Rembrandt, "Judas Repentant"
I've been thinking about guilt a lot this Holy Week, and about Judas, who betrayed Jesus. Where do we put the guilt for Jesus' suffering and death – on Judas alone? On the Roman rulers? On the bloodthirsty crowds? On the abstract concept of human sin? On all of us, everywhere, throughout history?
And if Jesus bore our sins on the cross, what does that mean for our guilt? How does it change how we feel about the ways we choose what we know to be wrong, day in and day out? Did Jesus come to pay the price of our sin in his blood, or to conquer death, or simply to provide us an example of how to live?
And what about Judas? Why did he do what he did? The Gospels emphasize different possibilities: he was a thief, simply greedy for silver; the devil made him do it; but overall they really seem not to regard Judas' motives as terribly important. Interpreters have been trying to fill in the gaps ever since.
This week, as I've cautiously absorbed some of the tragedy and trauma emerging from the trial of Derek Chauvin for the murder of George Floyd, I've been struck by how, as the obviously culpable Chauvin tries to evade guilt for his actions, everyone else – the store clerk, the EMTs, the bystanders – have eloquently expressed their own guilt for their participation in a situation where the appalling outcome was clearly not their fault.
Where do we take on guilt when we shouldn't? Where do we avoid guilt that we should face? How do we deal with our own guilt by displacing it onto others?  How do we cope with the pain of existing in a world so permeated with sin that sometimes we wonder if Jesus' sacrifice made any difference? Do we sometimes feel a sneaky kinship with Judas in guilt and despair?
I don't have answers to these questions, and on Good Friday I often feel that there aren't any.  And that's where poetry steps in, to give us words for the incomprehensible.
It's already night. Jesus is dead. According to some of the gospel accounts, Judas is dead too, by his own hand. That's where this poem begins, written more than a hundred years ago by Dorothy L. Sayers. (I have changed one couplet slightly to remove an instance of gratuitous anti-Semitism.)
The gates of paradise
From the grave-bed and the winding sheet
Is a long way for dead feet,
A dark road for dead eyes
That leads to the gates of paradise.
When Judas' soul went through the night
To knock on Hades' gate,
His way was over the whin-pricked moor,
And the noise of the wind was great.
He had no lantern to his feet,
Nor candle in his hand,
Such as God gives to every man
That dies at the time planned.
The angels sit in highest heaven
And trim the lamps of God,
And all day long make the lights for those
That travel death's dim road.
And when the cross is on thy bosom,
The chrism on thine eyes,
Thy angel will bear down thy light
Out of the starry skies,
And thou therewith shalt walk by night
Safely to paradise.
But whoso doth so deadly sin
To cast his life away,
Finding his lamp not lit betimes,
Walks through the midnight grey.
For a long time night and half a day
Did Judas walk alone,
Through the utter dark, for in that place
Is neither sun or moon.
For a long night and half a day
Did Judas vainly seek
To reach the gates of paradise,
The salt tears on his cheek.
With that he saw a candle gleam
Borne by a hasty man,
And Judas caught him by the cloak
So swiftly as he ran.
"O let me walk with thee, kind friend:
I grope, I fail, I fall;
I have no lamp nor candle-light,
And the night is over all."
"Full gladly, so thou mak'st good speed;
I run to keep the tryst
That was given to me at the gates of hell
By sweet king Jesus Christ.
I am the thief whom God forgave
On Calvary's bitter tree:
For 'to-night,' he said, 'thou shalt rest thine head
In paradise with me.'"
"And I am the man that sinned such a sin
As the world remembers not,
That sold for a price the lord of life:
Judas Iscariot."
"Now God forbid, thou damnèd wretch
That ever this should be:
That I should tryst with Jesus Christ
In the company of thee!"
The first robber went his way,
And Judas walked alone.
Mirk, mirk was the black midnight;
That heavy wind made moan.
Right so there came a second man
Was walking by the road:
"O brother, let me share thy light
As far as Hell's abode."
"Now well I fear, my brother dear,
Thou never wilt walk with me:
I am that thief which railed on Christ
All on his bitter tree.
I cast shame on king Jesus then,
Wearing his painful crown;
And scorn upon his royal head,
Whence the pale sweat dripped down.
O rudd-red were the five blest wounds
Where nails and spear went in;
A thousand, thousand years of purgatory fire
Never can cleanse my sin."
"Why never I ween," said Judas then,
"Did two such sinners meet;
I sold King Christ to the bloody cross,
Where they pierced his hands and feet."
"Art thou that man," quoth the robber,
"Most cursed under the skies?
God do so with me if I go with thee
To the gates of paradise!"
The second robber went his way,
And Judas walked alone,
Till he was aware of a grey man
That sat upon a stone,
And the lamp he had in his right hand
Shone brighter than the moon.
"Come hither, come hither, thou darkling man,
And bear me company;
This lamp I hold will give us light
Enough for thee and me."
Judas walked with the grey-clad man
And fear was in his heart:
"Speak yet again, thou man in grey,
And tell me what thou art."
"I bought a burden of deadly sin,
And needs must pay the price;
I bear it hither in my hand
To the gates of paradise."
"Sin cannot lie upon thy heart
So heavy as on mine."
"Nay, sinner, whosoe'er thou art,
'Tis a heavier load than thine."
He hath not askèd Judas' name,
And Judas makes no sign.
"If sin is heavy on thy heart
And I must bear its weight,
'Tis fit that we should go together
To tryst at Hades' gate."
Judas walked with the grey-clad man
And feared to tell his name;
He clasped his hand in the barren land,
Bright burned the lantern's flame;
Brotherliwise and hand in hand,
To paradise they came.
Satan looked out from Hades' gate,
His hand upon the key;
"Good souls, before I let you in,
First tell me who ye be."
"We be two men that died of late
And come to keep hell's tryst;
This here is Judas Iscariot,
And I am Jesus Christ."
Amen.