All Saints, Dorval
Ash Wednesday, Year B
February 17, 2021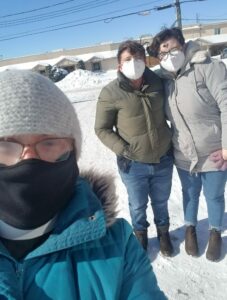 Socially distanced ashes in my parking lot yesterday morning, with Mal Skinner (right) and her partner, Montreal Dio student Alex Griffin
Well, this is the last one.
For a year, as we've moved through the liturgical calendar in "Coronatide," I've observed and preached about the ways that familiar texts and familiar occasions land differently under these circumstances. Our scriptures for Ash Wednesday, which complete the cycle, are no exception.
When Joel writes of the panic and horror of life in Judah as a plague of locusts bears down on the people, we recognize their fear and confusion, faced with a natural phenomenon that is far bigger than they can control; and we sympathize with their impulse to cry out to God for deliverance by declaring a day of fasting and prayer.
When Paul speaks of enduring through "afflictions, hardships, calamities, beatings, imprisonments, riots, labors, sleepless nights" we think of the events of the past year and have a visceral sense of what calamity, hardship, and solitary confinement might feel like.
And when Jesus instructs us to pray and give alms in secret rather than practicing our piety before others, we chuckle ruefully and might remark that this Ash Wednesday, we're practicing our piety behind closed doors whether we like it or not!
And thus we come full circle, back into Lent when in a very real sense it feels like we never left it.  On the third Sunday of Lent in 2020, the last time that we had Eucharist and sang together as a congregation, I jokingly – but also seriously – informed everyone there, both in person and those tuning in by Zoom, that I was officially dispensing them from whatever their Lenten disciplines were.  Giving up chocolate, alcohol, social media? This is your permission to take them back again, because you're going to need them as you "give up" normal life, leaving the house, and seeing your loved ones.
At the time, we thought we would be locked down for a few weeks at most.  I promised the congregation a huge, festive, over-the-top Easter service when we got back together – a service we have still not been able to have.
As we turn the corner into the second year of COVID-19, life is pretty Lenten, and is likely to be so for at least a few more months.  There are signs of hope on the horizon – a case count lower than it's been since late September; anticipation of much increased vaccine deliveries in the upcoming weeks – but it's slow and glitchy and we're all so, so tired of waiting.  We don't need to be reminded of our mortality.  We don't need to give up one more thing.
As the chaplain of Sidney Sussex College, Cambridge, put it on Twitter yesterday: "I am abstaining from nothing this Lent. I am taking nothing new on. I am just going to put one foot in front of another until we're through this thing. All are welcome with me in this Lenten discipline."
Of course, if there is something genuinely spiritually helpful you can do, something that will help connect you with God, something that will bring you comfort and hope, by all means do it! But this is a Lent to focus on what gives you life, not what reminds you of death. We're all being reminded of death on a daily basis, thank you very much.  What we need is not Lenten gloom but Lenten hope.
The word "Lent" in English comes from the same root as "lengthen", and refers to the lengthening days leading up to the spring equinox. In the northern hemisphere, Lent and spring are synonymous. Even as the snow falls and the ground is churned into unattractive mud, nevertheless the soil is preparing for growth.  There will be longer days, warmer breezes, flowing water, and green things springing up. All that we need to do is wait – and plant some seeds, at the right time, if we are so inclined.
This year, instead of knowing exactly when our Easter celebration will be, we are waiting for a deliverance that will come slowly and gradually, and we don't know exactly when. Our discipline this Lent is simply getting through the day without succumbing to despair.
If there's anything the coronavirus has taught us, it's how interconnected we are.  The health and survival of each of us depends on all of us – on our being willing to listen and learn, and to change our behaviour, including making significant sacrifices, in order to keep each other safe, including people we don't know and will never meet.
And so often our Lenten disciplines are individualistic. I'm going to give up chocolate, or alcohol, or social media, or take on an additional time of prayer, or donate money to charity, in order to make myself a better person.
What if we instead re-visioned our Lenten practice as something we do, not in the name of personal self-improvement, but to remind ourselves of our interconnection, with each other and with God?
Being denied our regular daily interactions with other humans for much of the past year has certainly focused our attention on how crucial such connections are to our hearts, spirits, and souls. While we are physically distanced, how can we reflect on and strengthen our spiritual connections? While we are "in our rooms" with the doors shut, praying to our Father who sees in secret, how can we remind ourselves that our greatest treasure, stored up where neither moth nor rust consume, is actually each other? How can we cultivate the habits that build community, such as Paul enumerates: "purity, knowledge, patience, kindness, holiness of spirit, genuine love, truthful speech, and the power of God"?
Much of our liturgy and hymnody around Lent speaks of self-denial, which we often understand to mean resisting our bodily desires for things like sugar, wine, or steak. But this, if any, is the year to reframe self-denial as "understanding that my singular self is part of an interdependent whole."
We will still read Psalm 51 and pray the Litany of Penitence, because we respect our traditions and because God knows that human sin is still a real thing. But, this Lent, be very gentle with yourselves, friends. Know that it is amazing simply that we are still here, still putting one foot in front of the other, still loving God and each other and the world as well as we know how.
Easter is on the way.  Barring a miracle, we will still be on Zoom on April 4, but sin and death will not have the last word here. With patient endurance, we can plant the seeds that God will nurture into our resurrection life.
Our life right now is weird and frustrating and contradictory. But we know where our treasure is. We know that Ash Wednesday and Lent are not the end of the story. We have God, we have each other, and we have Paul's words, which seem oddly fitting for this moment:
We are treated as impostors, and yet are true; as unknown, and yet are well known; as dying, and see—we are alive; as punished, and yet not killed; as sorrowful, yet always rejoicing; as poor, yet making many rich; as having nothing, and yet possessing everything.
This endless Lent will end. Easter will come. Just keep going.
Amen.