This is an elaboration on a recent Facebook post, expanded and put here at the request of others.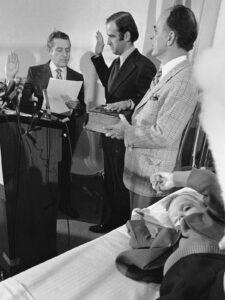 Joe Biden being sworn in to the US Senate next to 4-year-old Beau's hospital bed, Jan. 5, 1973
Most people have no idea that in 1972, the United States came within a hair's breadth of establishing a universal public childcare system. The program was passed by Congress, but vetoed by President Richard Nixon because, he claimed, it would "commit the vast moral authority of the National Government to the side of communal approaches to child rearing over against the family-centered approach."
As a result, working families in the US continue to struggle with a patchwork of inadequate and expensive semi-solutions to the problem of how to ensure their young children are adequately cared for while the adults are earning their living.  Children fall through the cracks, adults are stressed by financial worries and concerned that their kids aren't safe, and parents (overwhelmingly mothers) are often forced to drop out of the work force, wasting their human potential and hampering their (and their families') ability to thrive. The COVID-19 pandemic has exacerbated all these trends to the breaking point.
In July of 2018, I moved from New Hampshire (where my son was in seven different daycare situations between the age of seven months and when he started kindergarten) to Montreal, Quebec.  Quebec has the most comprehensive welfare state of any Canadian province, including state-subsidized childcare from the age of 18 months (after a maternity leave of a year or more).  The government-run childcare centers (Centres de Petite Enfance, or CPEs) cost less than $9 (CDN) per day; private childcare centers are slightly more expensive, but are priced on a sliding scale with a portion of the cost being refunded when the family files their taxes.
Not coincidentally, Quebec also has some of the world's highest rates of workforce participation among women of childbearing age (81% as of 2016). Mothers in Quebec love their kids just as much, and are just as involved in their lives, as mothers anywhere else; but they are also able to use their talents and contribute to the economy, without worrying that their children are being inadequately cared for or that their entire paycheck is being spent on childcare costs.
In the US, historically, politics has been the domain of white, heterosexual, cisgender, educated men. If these men had children, they also had wives; and it was the wives who either stayed home to care for the children, or who, even if they worked, were nevertheless the ones to perform the mental and emotional labour of ensuring that someone was caring for the kids.
As a result, policy around childcare was made by people who had essentially no practical experience of what childcare actually means to a family that depends on it in order for the primary breadwinner to be able to go to work and earn a living. Discussions of childcare remained firmly in the realm of the ideological and theoretical, leading to Nixon's absurd statement implying that to provide a universal state-sponsored system of childcare would somehow weaken the American family.  The idea that some American families might not include an adult with the luxury of choosing to stay home with the children was ignored – or rather, the idea of a single parent needing childcare, or a family needing two incomes to make ends meet, was seen as a failure to be punished, rather than a legitimate situation to be supported.
As women, people of colour, and LGBTQ+ people began to move in greater numbers into American government in the second half of the twentieth century, some voices began to be raised representing the experiences of families that didn't fit this 1950s sitcom model. Elizabeth Warren is justly famous for her story of being a single mom and newly minted law professor, at her wits' end because she couldn't find reliable childcare, and being rescued by her Aunt Bee, who "arrived with seven suitcases and a Pekingese named Buddy, and stayed for sixteen years". But as Senator Warren makes sure to point out every time she tells that story, most American families don't have a handy Aunt Bee.
With the inauguration of President Joe Biden and Vice President Kamala Harris, however, the experience of a family that diverges from the white, cishet, intact nuclear-family "norm" has reached the highest level of the American government – the White House – for literally the first time in modern history.*
As I watched the ceremony on January 20, the commentators on the live stream remarked on the pervasiveness of the experience of stepparenting in the new executive branch, and the press has been raving about Kamala's "big, blended" multicultural family. But it's much more than that.
Kamala Harris, though she has borne no children, understands the emotional and caregiving labour of family life from the perspective of a woman – someone socialized into the gender that is expected to perform that labour.  And her own unconventional family includes not only her stepchildren, but her experience as the sister of a teen mom: her sister Maya had her daughter Meena at 17, when Kamala herself was just 20, and until Maya married, their household was a multigenerational, all-female unit with all three adults pitching in to care for Meena. This is a Vice President who, by virtue of both her gender and her life experience, has infinitely more understanding of the multiplicity of family experiences, and family needs, in the US than any other President or Vice President before her.
But she isn't going to have to start from square one convincing her boss of this, either.
We've had Presidents who were the sons of single parents (Clinton, Obama). But Joe Biden is the only President within living memory to have been a single parent. He was widowed at barely 30, having just been elected to the Senate, which left him the sole guardian of two small, traumatized children who had been injured in the same crash that killed his wife and baby daughter – he took the oath of office from beside Beau's hospital bed.
Biden's family wasn't wealthy. He couldn't dump the kids on servants. I'm sure the extended clan rallied round, but as far as the care of those kids was concerned, the buck stopped with him. He has had an experience that no other President (the egalitarian-feminist Obama with his high-powered professional wife included) has ever had – being the default parent and knowing that if you didn't find someone to take care of those kids so you could go to work, nobody would.
We've heard a lot about Joe Biden's personal story as regards his character, his relatability as a person, and his ability to understand and empathize with grief. But it may – and it should – affect his perspective on this important element of policy as well.  Having people in positions of power who have actually experienced a problem makes it infinitely more likely that that problem will get fixed – that's the whole point of representation.
I can't help but hope that Biden's gut-level understanding of what it's like to lie awake at night wondering how you can both do your job and do right by your children, will affect how his administration handles the issue of childcare, which we came so close to dealing with almost fifty years ago, and which has been woefully ignored ever since. And I hope it takes decisive action, to the great benefit of American families, society, and economy.
*For the purposes of this post, I'm considering "modern history" to be "since World War II" – in other words, during and after the formation of the mid-twentieth-century nuclear family ideal, and postdating the point at which most parents could be expected to survive until their children reached adulthood. Stepparenting was obviously a much more common experience even for privileged white men in the nineteenth century and earlier, when women frequently died in childbirth (and the solution to "who's going to care for the children" was usually "just get married again!").