All Saints', Dorval
September 6, 2020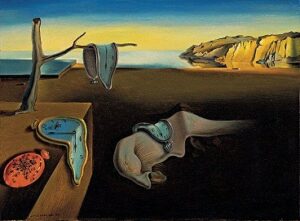 I have a friend and colleague who serves a church in Nashville, Tennessee, where on March 3 of this year, there was a tornado.  That was a huge crisis for her congregation, as one might expect – and then ten days later, more or less, the world basically shut down for COVID. My friend remarked on Thursday, "I don't know how the tornado could be six months ago when it has obviously been both two days and eight years since March."
Time has been very weird since the pandemic started. Stuck in our houses, we've lost track of what day of the week it is.  For some, the days have flown past, as we struggle to keep up with multiplying and overlapping responsibilities: working from home, caring for kids, and making an unaccustomed three meals a day. For others, the empty hours have stretched out to infinity.  Sometimes, the same people have experienced both those feelings at different times.  It's early September, and yet I think a lot of us share the feeling that we're still waiting for summer to start, because it has contained so few of the experiences that typically define it.  To use a line from Dr. Who, life has felt very "wibbly-wobbly timey-wimey" lately.
That sensation was only underscored when I read this week's readings. We have been reading through Genesis and Exodus in the Old Testament slot, and Romans in the Epistle slot, for many weeks now.  So it's presumably just random chance that we ended up with these two passages on the same Sunday:
The Lord said to Moses and Aaron in the land of Egypt: This month shall mark for you the beginning of months. It shall be the first month of the year for you.  Tell the whole congregation of Israel that on the tenth of this month they are to take a lamb for each family, a lamb for each household.
and
Besides this, you know what time it is, how it is now the moment for you to wake from sleep. For salvation is nearer to us now than when we became believers; the night is far gone, the day is near.  Let us then lay aside the works of darkness and put on the armour of light …
Both of these passages specifically invoke the concept of time (marking months, days, and years; knowing what time it is; awaiting the coming dawn) and both of these passages are also powerfully associated with particular times in the church calendar.
The one from Exodus, commanding the Israelites to celebrate the Passover and to mark their doorposts with the blood of the Lamb, is read every year on Maundy Thursday, and in fact a few years back I noticed that it is at the moment when this lesson begins in the Maundy Thursday service that it really hits me that the Great Three Days have begun. I may have spent the earlier part of the week rushing around doing last-minute ministry tasks and wondering if it would ever properly feel like Holy Week, but those words never fail: This is how you shall eat it: your loins girded, your sandals on your feet, and your staff in your hand; and you shall eat it hurriedly.  It is the Passover of the Lord. And I take a deep breath, and realize that yes, this is really happening, we are here, in Maundy Thursday worship, which comes only once a year, and whether or not I've checked every box on the to-do list, I must be present to this moment or miss it.
The excerpt from Romans is read on the first Sunday of Advent in Year A, and at my childhood church my mother made a set of vestments with those words: "the night is far spent" on the front, with a dark sky and stars, and "the day is at hand" on the back, with layers of colour representing a sunrise sky.
So here, on a random Sunday in September, we have both touchstones of the liturgical year – Advent/Christmas and Holy Week/Easter.  This does not help us figure out what time of year it actually is, or orient ourselves in the strange ebb and flow of pandemic time!
Yet I think there is also a deeper meaning to be found here, and perhaps an anchor, or at least a buoy, to hold on to as we bob around in the waves of time. As liturgical Christians, we make a point of observing particular feasts and fasts at particular times, just as God commanded Moses and the Israelites to do. And yet that doesn't mean that we can only be penitent in Lent, or only expectant in Advent, or only rejoicing in Easter season.  We may emphasize particular emotions at particular times, but that doesn't make them invalid at other times.
This Sunday is our last Zoom-only service, hopefully for a very long time.  Some of us may be thrilled to be anticipating seeing each other in person – even with masks and from six feet away – next week.  Some of us may be sad to be continuing to stay home in order to stay as safe as possible. Some of us may be quite content to be able to continue tuning into worship from the couch with coffee.  Some of us may be scared of a second wave and a second lockdown.
All these emotions are valid.  Just as all the different and strange ways that we have interacted with time over the past half-year are valid. And most importantly, God is present in all of them.
The liturgical year – and these scriptures, which we have chosen to help us shape and define it – is a great gift, helping us to anchor ourselves in the ebb and flow of life and time, whether it's chugging along normally or completely upended by something like a global pandemic. Even when the readings pop up in the middle of September, they remind us that it is only to be expected that we will cycle through feelings, both good and bad, and that God is there for all of it, whether our feelings are dovetailing precisely with the season or are all over the map.
We had to reinvent Holy Week and Easter this year, three weeks into lockdown. I promised a big festive Easter service as soon as we could worship together again – not realizing that a few weeks later, singing together would be revealed as one of the most dangerous things we can do, so any plans for that blowout worship occasion are indefinitely on hold.  Advent begins in less than three months and we have no idea what it will look like.
But what we do know is that our times are in God's hands. And we know – thanks to today's gospel reading – that where two or three are gathered in Jesus' name, whether virtually or in the flesh, whether singing, speaking or silent, whether Morning Prayer or Eucharist – where those two or three are gathered, God will be in the midst of them.  Let that be enough.
Amen.