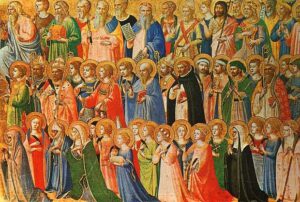 Fra Angelico, "The Forerunners of Christ with Saints and Martyrs". (Compare this image to the one currently being used as our page banner on Facebook …)
At dusk on a Saturday just about exactly twenty-eight years ago, I happened to find myself, with my mother and younger sister, outside the main doors of Trinity Episcopal Church on the Green in New Haven.  Trinity was not our church; we went to what was then St. Paul's, a few blocks down the street (yes, New Haven, like the West Island, has too many Episcopal/Anglican churches).  St. Paul's, at that point, was six months into a painful exile from our sanctuary, because during the previous Holy Week the roof of the nave had been discovered to be on the verge of collapsing.  We had been worshiping in the parish hall since then, with an upright piano as the only accompaniment to our hymn singing, and we were all feeling a bit bruised.
After the event at Trinity that afternoon, we had to load some things into my mother's car, and as we were bringing out the last load, with the doors into the sanctuary still propped open, the organist began to practice inside.  And what he struck up as a warm-up was – unsurprisingly – Sine nomine, the tune of the hymn "For all the saints."  And the three of us looked at each other and began to sing, from memory, and we kept it up either until we had sung all eight verses or until the organist switched to something else (I suspect the latter).
We all still remember that moment, and the great gift that Trinity's organist – who was presumably totally unaware we were there – bestowed upon us, in the form of a blast of organ music to tide us over as we faced All Saints' Sunday the next day, in the parish hall, with the upright piano.
But I think the vast majority of people would hear that story with bemusement.  If the time of year had been December, and the organ tune a Christmas carol – or even springtime and an Easter hymn – perhaps they would understand.  But All Saints'?  Is that really such a big deal?
I think it is.  At Christmas, we remember that Jesus came to share our human life; at Easter, we rejoice that because he did so, our human life is taken up into God's resurrection life.  But All Saints' takes it one crucial step further:  it shows that resurrection life carried forward into the millennia of human history that have come since Christ ascended into heaven, and it extends the promise forward into eternity, for each and every one of us.
Halloween – All Hallows' Eve, the eve of All Saints – comes under fire from both pagans, who accuse Christians of stealing it, and Christians who think that it's a satanic celebration that believers should avoid. But in fact, All Hallows' Eve, All Saints' Day and All Souls' Day form a triduum – a three-day cycle of feasts – that mirrors and balances the better-known spring Triduum of Maundy Thursday, Good Friday, and Great and Holy Saturday.
In the spring Triduum, we rejoice in the Resurrection; the autumn Triduum, we claim it as our own, and in the face of the gathering dark, the cold, the death of everything in the landscape around us, we insist that our Christian hope promises a glorious future in which we will see God face to face and be reunited with all those who have gone before us in faith.  And Halloween is an essential part of this observance; it is the Good Friday of the Autumn Triduum, but instead of bowing in awe before the mystery of death in the form of God dying on the cross, instead we ape, mock, and dress up as the things we fear most, inhabiting them and then shucking off the disguise: thereby robbing the ghosts, skeletons, zombies and demons of their power, reassuring ourselves that we are not spooks, but saints.  On All Saints' Day, we revere the great heroes of the faith, those capital-S Saints who are known to us by name across the ages; and on All Souls' Day, we celebrate the whole body of Christ, all the faithful departed, including both our own beloved dead, and those innumerable saints whose names are known only to God.
This year, on All Saints' Sunday, we will once again have a baptism at the 10:00 service,, adding one more new member to the ever-growing Communion of Saints; and at 4:00 we will celebrate our first "feast of title" as the parish of All Saints by the Lake. It's going to be a great Autumn Triduum weekend!  Come and rejoice!
O blest communion, fellowship divine!
We feebly struggle, they in glory shine;
Yet all are one in thee, for all are thine:
Alleluia!  Alleluia!