I'm posting this sermon from 2.5 years ago in New Hampshire here so as to be able to share it elsewhere.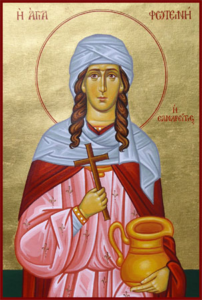 An Orthodox icon of St. Photini, the Woman at the Well
Holy Trinity, Newington
Lent III, Year A
March 19, 2017
When I was a teenager, my spirituality was focused strongly, not to say obsessively, on the image of Jerusalem and Zion in the prophets.  If you've been attending The Whole Story sessions, you've heard me discourse on this topic!
As a girl emerging into adulthood, I found "daughter Zion" a tremendously compelling and, as the kids say, "relatable" character.  She was recognizably human, and definitely flawed; she went through terrible experiences and yet emerged triumphant.
If you have no idea what I'm talking about, here's a tiny sampling of the verses in the Old Testament depicting Zion and/or Jerusalem as a woman:
"Make the circuit of Zion; walk round about her; count the number of her towers." (Psalm 48:11)
"Awake, awake, put on your strength, O Zion!  Put on your beautiful garments, O Jerusalem, the holy city; for the uncircumcised and the unclean shall enter you no more.  Shake yourself from the dust, rise up, O captive Jerusalem; loose the bonds from your neck, O captive daughter Zion!" (Isaiah 52:1-2)
"Sing aloud, O daughter Zion; shout, O Israel! Rejoice and exult with all your heart, O daughter Jerusalem!" (Zephaniah 3:14)
This is barely the tip of the iceberg; I could multiply examples all day. Zion/Jerusalem is not the only city or location to be personified this way, either; it is an extremely common symbolic move throughout the prophetic writings, and indeed throughout ancient Near Eastern literature.
Strangely, although it's a staple of commentary and hymnody from the early Church Fathers right up through the Victorian hymn writers, this theme has been deemphasized, not to say suppressed, for the past couple of generations.  At a time when we're ordaining women and searching for feminine images for God, we've willfully expurgated the richest vein of feminine imagery in Scripture.
There are several reasons for this.  One is our discomfort with the additional layer of meaning that the word "Zion" has acquired since the late nineteenth century.  One is that gendering Zion as female in relation to a masculine-gendered God arguably still leaves the woman in an inferior position.  And the third is that a lot of what's said about Daughter Zion in scripture is not so approving and comforting.
"Jerusalem sinned grievously, so she has become a mockery; all who honored her despise her, for they have seen her nakedness; she herself groans, and turns her face away.  Her uncleanness was in her skirts …" (Lamentations 1:8-9)
"The Lord said:  Because the daughters of Zion are haughty and walk with outstretched necks, glancing wantonly with their eyes, mincing along as they go, tinkling with their feet; the Lord will afflict with scabs the heads of the daughters of Zion, and the Lord will lay bare their secret parts." (Isaiah 3:16-17)
And there are a number of extremely explicit passages in the prophet Ezekiel, which, although they are holy scripture, I will not quote here, but if you're curious, check out Ezekiel chapter 23.
The passages casting Zion as a faithless and promiscuous woman have never bothered me particularly, since that imagery is so obviously a metaphor for faithlessness to God, and the biblical writers were simply trying to make the accusation of idolatry in the most dramatic language available to them.  But I acknowledge that that attitude is a privilege that I have, as someone who has never experienced sexual violence or harassment based on my perceived morals or lack thereof.  For people who do identify with those experiences, these can be very difficult passages.
But I don't think the solution to that problem is to ignore or suppress them.
And that's where the Samaritan woman, and her five (or six) husbands, comes in. (You were wondering when I was going to get to that, weren't you?)
For an embarrassingly long time, commentators on this passage were hung up on the woman's marital history and how it meant she must be, at best, a repeated divorcee, and at worst, a serial adulteress. They assumed she was going to the well in the heat of the day (rather than at dawn or dusk) because the respectable women of the town refused to talk to her.  They emphasized how magnanimous Jesus was, to deign to speak to such an obvious sinner and outcast!
Well, Jesus did speak to sinners and outcasts, but this woman is pretty clearly not one of them.  People in small, tight-knit villages are rarely able to bring the whole town running to see a traveling prophet by uttering two breathless sentences, if they're the victims of years of social ostracism.  And after establishing the woman's marital history, neither Jesus nor the woman herself demonstrate any shame or awkwardness on the subject; they simply move on to a sophisticated discussion of some questions of religious observance.
So what on earth is the point of bringing up the woman's five husbands (other than to establish Jesus' prophetic bona fides by showing that he knows things that people haven't told him)?  Why is this particular fact chosen as something that it's important to know about the woman at the well?
Writing on this passage, Professor Osvaldo Vena comments, "The five husbands can also be a reference to people from five foreign nations who were brought as colonists by the Assyrians when they conquered the region in 721 B.C.E. (see 2 Kings 17:24). This created a situation of intermarriage that was aggravated by Herod the Great who continued with this pattern of colonization by settling thousands of foreigners in Samaria. If that is the case, then Jesus is commenting on the Samaritans' mixed race and culture due to imperialism, not on her private life."
The king of Assyria deliberately tried to extinguish the religion and culture of Israel/Samaria after conquering it, in order to try to break the people's spirit and render them obedient subjects. If adultery is a metaphor for idolatry, then this was a forced marriage, against the woman's will. If the Samaritans went astray from the worship of the one true God, it was not because they chose to do so, but because they were the victims of conquest.
I am not claiming for a moment that this is the only way to interpret this extraordinarily detailed, rich, and nuanced story.  One could spend weeks on the Samaritan woman and still have new things to say. But I do think, given how pervasive the metaphor of city/country = woman is in the Old Testament, that it is valid to see the Samaritan woman, among her many other roles and representations, as a continuation of that metaphor, and to interpret her in her encounter with Jesus not only as an individual, but as the representative personification of her people.
So what difference does that make for us, today?
If the image of daughter Zion invites us (particularly women) to insert ourselves into the story of God and God's people, then the Samaritan woman underlines that invitation. She is not only a personification, but a believable human character.  Her conversation with Jesus is the longest recorded dialogue between Jesus and any single character in Scripture. She learns from him, and he respects and welcomes her.
Generations of Jewish prophets and teachers had blamed and shamed the Samaritans for their intermarriage and religious syncretism; Jesus names it, acknowledges it, and then carries on the conversation as though it was nothing to get worked up about.  A history of idolatry and infidelity is certainly nothing to celebrate, but neither is it a barrier to coming to know the living God.  Jesus' living water is poured out for everyone, without reservation.  The only qualification is a desire to worship in spirit and in truth.
And I think that that, in the end, is what I found most powerful about this image as a child and young adult:  that Zion is a survivor.  Horrible things happen to her – she is beaten, starved, exiled, bereaved.  Some of those things are her fault.  But God never gives up on her, and she never gives up on God.  In her darkest moments, she hopes for and trusts in salvation.
The mourning mother lying on the street in rags becomes the queen of a restored city, raised from the rubble and decked in twelve kinds of jewels.  She is a real, passionate woman, who laughs and weeps and rages; she is the daughter, bride, and mother of nations; and she is a city, whose walls are made of gold, clear as glass, whose light is God, through whose streets flows the river of life and whose trees bear fruit for the healing of the nations.
It is the oldest story in the book, the fairy-tale ending to end all fairy-tale endings; the prince marries the princess and they all live happily ever after.  It's not accidental that Jesus and the Samaritan woman encounter each other at a well, the classical meeting place for young couples in Scripture (think Isaac and Rebekah).  This is only one scene in the long love affair between God and God's people, but it is a turning point; it is the moment at which we know for sure that this story is for everybody, and that it's all going to be OK.
"And I saw the holy city, the new Jerusalem, coming down out of heaven from God, prepared as a bride adorned for her husband.  And I heard a loud voice from the throne saying, 'See, the home of God is among mortals.  He will dwell with them; they will be his peoples, and God himself will be with them; he will wipe away every tear from their eyes.'"
Amen.