Sermon for April 19, 2019, Good Friday, Year C
All Saints by the Lake, Dorval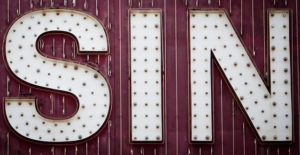 Well, here we are.  We began this pilgrimage on Ash Wednesday, and we are almost at the end of the road.  Slowly, step by step, we have been plumbing the depths of human guilt and despair, forcing ourselves to stand face to face with the reality of life in this fallen universe.
We are not done.  We have heard the scriptures, describing the fate of the suffering servant who is crushed for our iniquities, and narrating in detail the torture and death of God.  But after this sermon is over we will pray the Solemn Intercession and then venerate the Cross, which will bring us even more deeply into a reckoning with our own sinfulness.
It can be a lot, this communal acknowledging and processing of guilt.  I have every respect for those of you who show up, year after year; there would be nothing easier, after all, than simply staying home and avoiding the whole thing.
But if we are to do it, if we are to do justice to the extraordinary, cosmos-rending event which we commemorate and reenact today, it behooves us to understand as fully as possible what we are doing.  Which is why I want to examine what we actually mean by "sin" and "sinfulness".
These terms are widely used in our society and almost as widely misunderstood. The fabulous English writer Francis Spufford, whose book Unapologetic I heartily recommend to anyone as long as you don't mind talking about Jesus while using a lot of four-letter words, describes the use of the word "sin" like this:
Needless to say, that is not what I, or any other serious and informed Christian, means by "sin". But even among those who take the concept seriously, there is another pervasive misconception, which is that sin is primarily individual and within our control. The street preacher issuing a diatribe against gay people and abortion, the scrupulous high-church worshipper worrying about whether they've adequately fulfilled their Lenten discipline, and the evangelical high school student pledging to stay "pure" until marriage, all share the unexamined belief that their individual, personal actions are the crucial thing about their participation in human sin.
And certainly, our individual, personal actions can be sinful or not – though I would argue that Lenten disciplines, gay marriage, and premarital experimentation are hardly the most important categories, and that whether we're kind, truthful, brave, and generous matter much more to God.
But all of this discourse about sin ignores the giant elephant in the room, which is corporate sin.  This is the sin in which we are embroiled simply by virtue of being born human on planet Earth, and which we literally cannot solve simply by changing our behaviour, recycling more, buying fair trade chocolate, and donating to good causes.  The sin which is generational, perpetuated by the cycles of violence, injustice, and revenge, which dominates the headlines, destroys bodies and lives, and ravages the earth.  This is what we mean when we say "original sin" – not St. Augustine's long-ago sexual hangups, but this sickening sense that everything is wrong, it is somehow our fault, and it is beyond our power to fix it.
For the people of Jesus' time, it was the brutal weight of the Roman empire, extorting their resources, threatening their bodies, and deforming their lives; forcing them to choose whether to collaborate and compromise, suffer and survive, hurting those they loved in the process; or, alternatively, to resist, rebel, and risk death at the hands of the state, also hurting those they loved in the process. The criminals crucified on either side of Jesus were those who had chosen one path; the crowds howling for his blood were those who had chosen the other.  All are implicated, unavoidably guilty.
And for us today, it may be less immediate, but it's still there.  Think of the weight of really thinking about what climate change means for us and the world; or the weight of the conversation about residential schools and Indigenous rights; or the weight of thinking about what it would really mean to buy all your food and clothing in a way that respects the well-being of workers and God's creatures.
We all walk through the world knowing, on some level, that we are constantly guilty, just by virtue of going about our business, and that this guilt is not something that we can avoid by making a few simple changes.  It is guilt that is generational, reaching back long before we came on the scene, and it will continue long after we are gone. It is guilt that would crush us with despair if we let ourselves really feel it.
So on this Friday, which we stubbornly call "good" in the face of all evidence to the contrary, what do we do with that knowledge?  I think we need to do two things – two things which, on the face of it, seem to contradict each other.
The first is, to acknowledge the guilt, to let ourselves feel it.  We can't do that on a daily basis; it would make it impossible to get through the day.  But this one day of the year, the liturgy gives us a container for our guilt, and for the grief that flows from it, and invites us to sit with those feelings, to let ourselves experience them fully.
And at the same time, on this Good Friday, we take our guilt and nail it to the cross with Jesus, because that is where it belongs. As the letter to the Hebrews says:  For we do not have a high priest who is unable to sympathize with our weaknesses, but we have one who in every respect has been tested as we are, yet without sin.  Let us therefore approach the throne of grace with boldness, so that we may receive mercy and find grace to help in time of need.
This is not to say that we shouldn't continue to do everything within our power to combat injustice and to build, as we are able, our little piece of God's Kingdom on earth.  But what Jesus has done on the cross is to ensure that our sin and the power of death do not have the last word. God has broken the power of sin and lifted our burden, and promised that there will be a new creation.  
It's OK – it's perhaps even good – not to be able to see quite that far right now, in the shock and silence of today, staring at the cross and feeling its weight and the weight of all the sin that plagues the world today and every day.  But the promise is there. Upon him was the punishment that made us whole, and by his bruises we are healed.
We need not be able to explain why God would take on this enormous deed for us, or exactly how it works.  We need only to trust, and to hope, and to pray. 
Amen.