Sermon for April 19, 2019: Palm Sunday, Year C
All Saints by the Lake, Dorval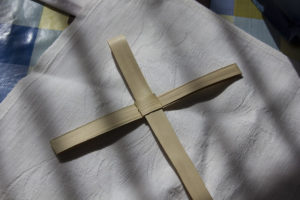 When the centurion saw what had taken place, he praised God and said, "Certainly this man was innocent."
Wait, how did we get here?  Half an hour ago we were waving our palms and shouting Hosanna, welcoming the Son of David, the King coming in the name of the Lord.  And now the King is dead, and the authorities who murdered him are passing judgment on his life?
Such is the reality of Holy Week. Palms and Passion, triumph and tragedy, so jumbled and juxtaposed that we can't separate them. We have barely put down our banners when the blows begin to fall.  And we have hardly adjusted to the words that we are hearing – I gave my back to those who struck me, and my cheeks to those who pulled out the beard; he humbled himself and became obedient to the point of death, even death on a cross – when we are hauled up out of our seats again and asked to howl for the Messiah's blood, to demand the release of a terrorist and shout "Crucify him!"
For some of us, we have done this every year of our lives and the challenge may be to make it feel as real and fresh as the first time.  For others, it may be sudden, shocking, triggering, overwhelming. In both cases, that's OK. The only inappropriate response to this story is the one that seeks to avoid responsibility.
Of course, there have been many responses to this story over the past two millennia that do precisely that; that make the same claim as Peter – "Lord, I am ready to go with you to prison and to death!" – without acknowledging that Peter broke and denied Jesus mere hours later.  Looking back at the Passion story, safely from the other side of Easter morning, we like to believe that we would have been faithful, that we would not have deserted our Master, that we would have known what the right thing to do was and done it, without fail.
But there is only one innocent party in this story, and that's Jesus.  The rest of us are all implicated, to a greater or lesser extent, in the great web of pervasive sinfulness that is what God became human to extricate us from.  Some are actively evil; others are collaborators; others are well-intentioned but too weak to take the stand and risk the consequences.
In a few minutes, we will sing a hymn called "My Song is Love Unknown".  The tune is lovely and the hymn is deservedly beloved. And yet it too falls victim to this temptation, to create a division between "us" and "the people who killed Jesus" that doesn't exist.  
Verses three and four go like this:  
Sometimes they strew his way, and his sweet praises sing, resounding all the day Hosannas to their King; then "Crucify!" is all their breath, and for his death they thirst and cry.
Why, what has my Lord done? What makes this rage and spite? He made the lame to run; he gave the blind their sight. Sweet injuries! Yet they at these themselves displease, and 'gainst him rise.
Who is this "they" that is opposed to the faithful and heartbroken "me"?  There is no "they" in this story. If God showed up as the penniless child of a refugee or on an indigenous reservation in 2019, and went around acting like Jesus did in Galilee, the authorities, the bystanders, and even the allies would act exactly the same.  There is no "they" in this story. There is only us, human and scared and fallible – and in some cases, actively vicious – as we are, playing out our own psychodramas in response to the appearance of perfect innocence among us.
We are everyone in this story.  We are the disciples, excited and confused and incomprehending and violent and cowardly.  We are Peter, making and breaking vows we can't keep; we are Judas, committing the ultimate betrayal for reasons that we still don't entirely understand.  We are Caiaphas and the other religious leaders, desperately trying to preserve the status quo in the face of chaos; we are Pilate and Herod, hanging on to power at all costs and passing the buck whenever we can.  We are Barabbas, the terrorist; Simon of Cyrene, the tourist; the Daughters of Jerusalem, the mourners; the soldiers, just doing their jobs; the criminals, alternately mocking and entreating; the Centurion, suddenly stuttering out a revelation of divine truth; Joseph of Arimathea and the women, quietly caring for their friend while keeping their heads down.
And of course, always, we are the crowds, fickle and easily manipulated, longing for someone to come along and save them, and then turning on that saviour when things start to go wrong, switching in a heartbeat from "Hosanna!" to "Crucify him!"
I'm a bit baffled as to why none of the hymnals seem yet to have rewritten "My Song is Love Unknown" using first-person plural pronouns throughout; simply replacing "they" with "we".  It would be an easy switch, and far more faithful to the reality of the Passion story, and it would heighten the paradox that is the essence of Holy Week; in the singular, "I", we worship and lament the Jesus whom we know to be the eternal Christ reigning from the throne of the Cross, but in the plural, "we", we are immersed in the moment, unavoidably implicated in the death of the human prophet whom we venerate, but are too afraid to defend.
In fact, when we sing the offertory hymn, that's what I'm going to do, and I invite you to join me.
As we continue on our Holy Week pilgrimage, we will only go deeper into the paradox of triumph and tragedy, of veneration and violence, of intimacy and betrayal.  On Thursday, as we reenact the Last Supper around the Maundy Thursday altar, the intimacy will be even greater and the betrayal that much deeper. And we will sing another hymn, one that captures the guilt and gratitude, the lamentation and longing, of this week:
Who was the guilty?
Who brought this upon thee?
Alas, my treason,  Jesus, hath undone thee!
'Twas I, Lord Jesus;
I it was denied thee;
I crucified thee!
But of course, while we may linger there, hoping and intending to enter fully and deeply into this year's Passion walk with Jesus – we know, even from where we stand now, where the story ends. We know that before we are done, a third T will be added to this story of triumph and tragedy – transformation.  And that the Messiah whom we nailed to the cross does not stay there, and does not leave us there in our guilt and misery. And so we sing the triumph of the cross, in the sure and certain hope that no matter what we – all of us – do to God when God shows up among us, God will turn that evil into good.
Ride on, ride on in majesty!
In lowly pomp ride on to die;
Bow thy meek head to mortal pain;
Then take, O God, thy power and reign.
This Holy Week, may we walk the whole of God's path on earth.
Amen.