WRITEUP OF STRATEGIC PLAN BRAINSTORMING MEETING, NOVEMBER 12, 2022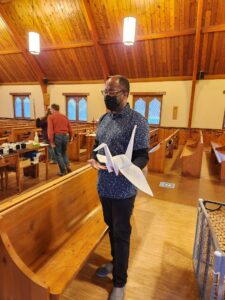 Dion at the meeting with a paper crane made from a sheet of flip-chart paper
Laura Hill was sadly absent due to having strained her back, so we do not have complete minutes.
The schedule was as follows:
1:00                 gather
1:15                 groundwork
1:30                 Bible study on Mark 2:18-22
2:00                 small group brainstorming 1 (on the four questions that had been distributed as "homework" at the October review sessions)
2:20                 break
2:35                 small group brainstorming 2
3:00                 wrap up & next steps
4:00                 go in peace
The information that was presented as "groundwork" is summarized under section (A) below. The notes from the small group sessions and their reporting back to the large group are presented in full under (B).
The spirit in the room was positive and the conversation lively. We didn't experience any revelations from on high, but we did confirm some things that needed to be said aloud: that we have come through the pandemic with a remarkable degree of unity and optimism; that we are committed to being a hybrid church in the long run; that we are hungry to discern the ministry that God is calling us to; and yes, our building is holding us back from that potential ministry in some meaningful ways.
The ad hoc Strategic Plan Review Committee (which consists, de facto, of the Corporation + Building Projects Committee) will revise the Plan itself and present the new document at the Parish Meeting on January 22. In the mean time, the following events are planned or anticipated:
At Messy Church on December 2, we will have a focused conversation with the parents of young families about their hopes and priorities for All Saints.
On Sunday, December 4, after church, Canon Dave Robinson (spouse of the Rev'd Heather McCance and a lifelong lay congregational development minister) will present the demographic findings for the Diocese of Montreal that he and the Rev'd Canon Neil Mancor have been working on for the past few months.
In January, I hope to bring the Rev'd Elisabeth Jones of Cedar Park United Church in Pointe-Claire to All Saints' to tell the story of her congregation's remarkable transformation of their building and their ministries since 2019.
Likewise, I would love to schedule a time for the congregation to hear more from former members of St. Paul's, Lachine, about their ministry with the Inuit in previous decades.
Dave also suggests approaching our ongoing discernment from the perspective of a gifts and strengths inventory: not what do the people around us need, but what do we have to offer? (Both, of course, are important.)
Finally, Mark Weatherley suggests ongoing small group meetings.
Stay tuned for details – and please share your suggestions!
(A) GROUNDWORK
Any decisions about building projects will be extensively discussed and voted on before being undertaken. The Building Projects Committee is unanimous: "It will take as long as it takes."
We are currently focusing on ADAPTIVE vs. TECHNICAL questions – WHY not HOW. "What do we want to do with the kitchen, and why?" rather than "How should the kitchen be renovated?" We need to answer the first questions before we can tackle the second.
In other words, in the sentence, "If we want to do X, the building needs to be Y" we're looking to solve for X. You can't solve for Y if you don't know X.
Several ways in which we're balancing goals that are complementary but/and in tension:
Looking at demographics – they define our "mission field" both in the sense of evangelism (looking to bring people into the life of this community) and outreach (identifying the material, social, and spiritual needs that we might be called to meet).
Looking to discern our mission – sometimes you do a ton of intentional, planned reflection and discernment (strategic planning, gifts inventory, demographics etc.) and still nothing bubbles up that gets people excited. And sometimes you have one random, ill-timed remark tossed off at a routine meeting that strikes a spark and becomes something amazing.
"The place God calls you to is the place where your deep gladness and the world's deep hunger meet." — Frederick Buechner
(B) DISCUSSIONS
Question 1 (led by Chris Grocholski): How has the pandemic changed your experience of being part of this congregation? How much of that might be permanent?
ROUND 1
Not changed – glad for Zoom – got to know people (we didn't fall apart!)
Showed we can adapt – otherwise who knows if we would have "made it"?
Resurrection folk like having screens again
Now appreciate in person even more
Permanent? – Not changed but because we'll be back in church
Permanent change – screens – now anyone can follow what is going on
Realize it wasn't just the building that we were missing
Anyone can attend with phone or computer
Tech Group! – thankful for it
Learned to adapt
Permanent? – Choir location in church, able to see sermon
No snowstorm excuses
ROUND 2
How much might be permanent
Isolated in way that we aren't bumping into each other
Increased participation
Got to interact with more people
Daily evening prayer
Access to service easy
Zoom blessing – feeling part of congregation
Missed some events – need to figure out which events that we will keep, what new events will happen
Interest and energy to plan events
Permanent – level of participation
Easy access to service – even technically challenged
Less people attending in person?
Blessing for sick/shut in – long distance
Quality of the zoom presentation [several check marks]
Engaging
Joined ASBTL because of the hybrid integration
SUMMARY
Some were more engaged, built relationships – names always on Zoom boxes
Some activities went away – difficult to get people reinvolved
Happy & thankful for tech team
We can adapt
Change – having screens – generally positive
Can follow
Can Zoom if sick or snowy
MP vs. Eucharist
Question 2 (led by Ross Hamilton): How do you feel about being a "fully hybrid church" and what does that mean to you?
 ROUND 1
Hybrid people are not here!
How can remote people feel fully involved?
Social interaction is important to community
Some people cannot get going for 10 AM
Hybrid allows us to tune in when travelling/unavailable in person
Hybrid (Social Media) is part of contemporary life and important to many
Hybrid can help as we age
" " for young families
Try Bible study on Zoom/Hybrid
Recorded services on Facebook/U Tube
How do we develop community over Zoom?
Supplement more than replacement
ROUND 2
Everyone needs to know how to use a microphone!
Everything the church does is hybrid (where possible)
Use breakout rooms, announcements in chat, other Zoom features
Training for Zoom users
Online evening prayer is great progress
Good option when weather bad
Good for people who cannot be here & for health reasons
Recordings would be great!
How do you politely leave from Zoom?
Encourage anyone to contribute to prayers
More TVs in church
Do we need pictures on every slide?
SUMMARY
Hybrid in as many ways as we can
Social interaction is important – how to continue over Zoom
Supplement not replacement
Suggested improvements – train everyone to use a microphone!
Recordings of services?
More Zoom features – use chat more, breakout rooms
Extra TVs ½ way down
Question 3 (led by Eileen Hussey): How do you envision our congregation using the building going forward?
ROUND 1
Fellowship through sharing food. – soup kitchen
Remove pews in sanctuary and create more flexible seating
Services
Activities
Bazaars
Install temporary sink, hotplate to make small meals
Provide more electrical connections, etc.
Messy Church upstairs
How are young adults being served?
ROUND 2
Need to determine where we're going as a parish
Relationship with Ullivik?
Meeting place in sanctuary
Financially viable suggestions only!
Stained windows should be installed
Integration with community important
Small kitchenette in sanctuary somewhere
Children eventually could go to loft during services*
*please note that with thousands of dollars of audio-visual equipment in the loft this is probably not the simplest solution!
SUMMARY
Fellowship thru food – soup kitchen
Refigure sanctuary
How young adults are being served
Where we're going as a parish
Stained glass windows
Financially viable
Question 4 (led by Helen Haslam): What parts of our planning do we need to look at that go beyond the question of building* use?
 ROUND 1
*+ other property/gardend
Priorities – energy – money – time – talents
Within community for ourselves – what is the box (vs. outside the box)
Who/what/where we are now = discernment
Need prayer, non-"doing" (cf. St. Stephen's)
More integration of spiritual + "doing"
Outside parish community KISS   LISTEN TO THE VOICE OF GOD
"Need to stop doing, and do just being"             Luke-Acts = first Cong Dev manual
Mary (listen) vs. Martha (doing)
Invite new vision – explore – meditation – new input
Garden – opportunity for outreach – 7 days a week – team effort
Batshaw on Dorval Avenue – get some of them to help?
Schools need volunteer hours
Partnerships with … …
We cannot do everything – so priorities are vital
*Hospitality – meet new people – intentionality – training
"All Saints dog biscuits"
Crypt – pub
ROUND 2
Liturgy – French –                                       The church is the people
The building IS the servant – one of the "means"
Communications –
Lots – and need to listen – looking for community to join us
Web page, FB – definition of community [commitment?] has changed – online
How do we do more? in-person
Local newspaper
NB – recruiting at the bazaar
Finance
Outreach
What help does local community need – elderly
Part of our identity is we are Xtian – [illegible]
Shut in
Refugees
Native people
Wider Community Building
How much community use of facilities
Who are our neighbours – find out
What do they need
GO and make disciples in all the world
Parish community – small groups in DAYTIME residential settings (Mark)
SUMMARY
Liturgy – French in worship service
Communications – listening as well as talking
Church is people, building is servant
Finance
Outreach – what does local community need?
Partnerships w/other orgs
Hospitality