Newsletter, Autumn 2022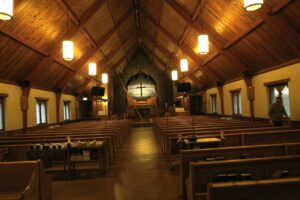 Can you spot the difference in this photo of the nave?
Happy Fall, everybody!
It was a joy to welcome everyone back to the Blessing of the Backpacks and the annual BBQ on September 11. And as I type this, the electricians are in the nave raising the light fixtures, which will not only improve our sightlines but was a necessary step before being able to properly secure the A/V equipment in the loft. Things are happening at All Saints'!
As we continue to discern what our ministries will look like in the aftermath of the COVID-19 pandemic, the Building Projects Committee has reconvened. This is a group that met once in March of 2020 before lockdown; its membership has changed a bit since then, but its remit remains the same: to consult on how to plan changes to our building in order to facilitate our ministries going forward, in such a manner that the work can be as efficient and coordinated as possible.
As soon as the BPC began meeting, we realized that we needed to go back a step and review the Strategic Plan from 2019. With this in mind, we have planned a series of conversations over the next two months. We strongly encourage all parish members to participate if at all possible – very important decisions are going to come out of this process!
The relevant dates are:
Sunday, September 25 Parish Meeting: the BPC will take about 30 minutes of the agenda to present their work so far and introduce the issues at hand
Three meetings in October – two in person, one on Zoom, all with the same agenda, so you should only plan to attend one – at which we will delve into the 2019 Strategic Plan and review what has been achieved, what remains relevant, and what needs to change.

Tuesday, October 11, 7:30-9:00, in person
Wednesday, October 19, 7:30-9:00, in person
Thursday, October 27, 2:30-4:00, on Zoom

A half-day brainstorming session/mini-retreat from 1-4 PM on Saturday, November 12, in which the BPC and Corporation will lead a discussion to update the Strategic Plan so we know our direction going forward.
Many things have changed in the past three years, but our commitment to "Reconciling, Affirming, Rejoicing" remains strong. As we decide how those commitments will be lived out in ministry in the coming years, please plan to be part of the conversation!
In God's peace,
Grace+