Incumbent's Report, May 1, 2022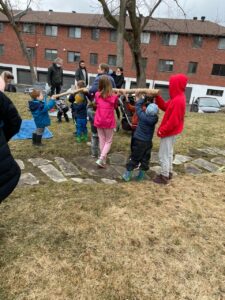 Carrying the cross at the children's Holy Week event
Between late March and May 1, much of the energy at All Saints by the Lake was focused on pulling off our first in-person Holy Week and Easter since 2019. We had services at the church on Palm Sunday, Maundy Thursday, Good Friday (twice!), Holy Saturday, and of course Easter Sunday, most of which were also broadcast on Zoom; as well as Zoom-only evening services on the Monday, Tuesday and Wednesday of Holy Week.
Tremendous thanks to the musicians, Altar Guild, servers, ushers, readers and intercessors, guest preachers Terry Hidichuk and Peter Lekx, and everyone else who participated! Special thanks go to the Confirmation Class for their delightful presentation of the Noah's Ark story at the Easter Vigil.
The Vigil was – let's face it – a bit chaotic, but seems to have been well received, and I look forward to repeating it (with a few of the rough edges sanded off) next year! Most importantly, though, even with 119 people in church on Easter Sunday, we remain unaware of any examples of COVID-19 actually being spread via church activities.
We also had a highly successful children's and family event on the afternoon of Saturday, April 9, with storytelling, crafts, flower planting, and singing.
As of May 1, the eight o'clock service has resumed for the first time since March 8, 2020, much to the delight of the "regulars" at that service!
COVID numbers have not dropped as quickly and consistently as we hoped, but with the advent of warmer weather we will be able to maintain the effective, if low-tech, ventilation strategy of opening all the windows throughout the summer. The Corporation is actively examining ways of improving our ventilation for the long term, as well as handling other building projects of varying degrees of urgency.
As discussed at the parish meeting, the Building Projects Committee is reconvening to resume the conversation about the changes that need to be made to our building and how to coordinate them to minimize effort and expense.
We are still looking for a Garden Coordinator, but Dave Hill has signed on as apprentice to absorb Bert Larocque's accumulated wisdom regarding the geothermal heating system – thanks, Dave!
Wednesday Morning Prayer and Bible Study has continued to meet, mostly on Zoom, with a new start time of 10:15. Participants are welcome to come to the church in person as well.
On March 27-29, I participated in the annual diocesan Clergy Retreat, which was in person again this year after a two-year hiatus, at the Manoir d'Youville in Chateauguay. I was off the week after Easter.
The Confirmation service is scheduled for Pentecost (June 5, 2022), with four young people and two adults being confirmed or received into the Anglican Church!
All Saints' participated as a parish in Heather McCance's course on the Acts of the Apostles, and gathered for "discussion sections" on Zoom on March 26 and April 9. During Lent, we also collected items for Auberge Madeleine. Our Easter season speaker series is now well underway, with excellent presentations and conversations with the leaders of local organizations; and we are recruiting volunteers for the Garage Sale on June 4!
We baptized two little girls on Easter Sunday and have two more baptisms planned, one on May 15 and one on June 12 (with more anticipated in the fall). What a blessing that so many people are interested in deepening their connection with God in this faith community!
We also have a wedding scheduled for late August, and on April 29 I conducted a graveside service for a couple whose family I had met through our parish's ministry at the Bayview Centre.
Looking a bit further ahead, I will be gone a little longer than usual this summer. I did not have the chance in 2020 or 2021 to use most of my Continuing Education money or time, so I'm making up for that this year, by doing a 5-week French immersion course at the Université Laval in Quebec City. The course runs from July 4 to August 6, and I plan to take two of my four weeks of vacation on either side of it (the other two will be taken later in the autumn). I've arranged coverage thanks to our excellent Honorary Assistant, Lay Readers, and others, and will be working with the Corporation to ensure that there are lots of opportunities for relaxed summer fellowship as we work to rebuild our community in-person. I will also be available by phone and email on a limited basis while on the French course (peut-être vous pouvez me contacter en français si c'est possible pour vous?)
Finally, as you know, our Parish Administrator, Jennifer Gibb, intends to retire on June 30. The recruitment and interview process for her successor is proceeding well. Stay tuned for an announcement about an anniversary/farewell celebration in June!
Happy Spring!
Peace,
Grace+