God Never Forgets
(a sermon preached on January 2, via Zoom at All Saints by the Lake, Dorval, Quebec)
The Rev'd Dr. Terry Hidichuk)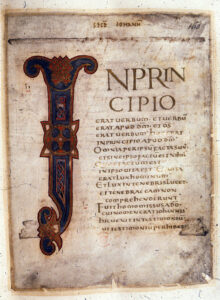 Incipit (opening sentences) of the Gospel of St. John in the "Coronation Gospels", 10th c.
(British Library Cotton MS. Tiberius A. II, f. 162r).
When John tells the Christmas story there is
no mention of shepherds,
or wise men or angels.
We hear nothing about Mary and Joseph.
In fact John doesn't even introduce us to the baby Jesus.
Luke takes us to Bethlehem for the birth.
John's Christmas story takes us back to the very beginning …
to the time before order,
to the time of chaos,
to the time before time. 
In the beginning was the word
and the word was God.
That opening couplet brings us back across ages to
the dawn of time.
We read the opening words of John's Gospel, and we hear the words of Genesis.
When God's word transformed chaos into order,
God said:
Let there be light
And there was light.
And God said;  it was very good.
The Hebrew word for good, is best translated as delightful.
God looked at what God had done and was delighted.
The first day of creation.
A couple of days pass.
Now a day could be 24 hours or 24, 000.
The length of a day doesn't matter.
The land is separated from the water.
The ants and the antelope are created.
The earth is covered with orchids and lilies and trees and food from the ground.
And God was delighted with all that God had done.
And then God took clay, shaped, molded and breathed the word of God into that clay
God looked at what God had done and said:
Holy cow, look what I have done.
God was delighted.
After that life moved on …
And after awhile God became discouraged, with what God had done.
When God surveyed humanity and realized how dark and difficult our days could be,
how confused we get about our identity and place,
how many painful things we do to each other out of that confusion and insecurity and stupidity,
how we take the beauty and abundance of creation and scar it,
and abuse it
and waste it.
God became angry; decided to do something about it.
Out of anger sent a flood to wash away human failings.
God wanted to start over.
But that didn't   work.
And after the flood God promised never to do that again.
But human beings being human beings blew God off.
And continued in their destructive behaviour.
Then God gave us laws and covenants.
God said to Moses take two tablets and call me in the morning.
The trouble is we never called.
We separated ourselves from the law but also separated ourselves from God.
And from our fellows.
And from creation.
That is called sin.
But God never gives up on humankind.
Human beings kind of messed up.
God sent prophets but we still didn't get the message.
Amos came and we said:  We know you don't like how we worship but get with brother,  worship has to change with the times.
Isaiah came to pass judgment on we lived with one another.
And we said:  Isaiah don't get your shirt in a knot, chill out brother.
The prophets spoke and the  people offered a collected, nah, not now.
God reached out with covenant love to bring us back into relationship over and over and over again.
That is called grace.
So God did one more thing.
God got involved, like God had never been involved before.
God got involved with the fallen creation.
Personally, intimately.
And the word became flesh and dwelt among us
That is called love.
Love came down at Christmas wrapped in the flesh and bone and sinew and blood of Jesus of Nazareth.
The word made flesh came first to …
no account shepherds,
an unwed teenage mom,
a non-unionized carpenter,
astrologers practicing a whole different religion.
But the love of God in Christ didn't stop with the events in Bethlehem at the dawn of time.
The love comes to …
The powerful and the pauper
The well heeled and the never healed
The old stock and the newly minted
And those born with silver spoons and opened doors
Those who are left out, left off, and left over
The brand new and the worn out.
All of this to show that God wasn't going to leave anyone behind.
That is redemption.
The Christmas story is a story
of gift,
of grace,
of love
of redemption.
Because after all the shopping and cleaning and cooking and preparing …
Or, for that matter, trying to make ends meet,
keeping a distraught family intact,
worrying about omicron,
wondering whether this pandemic will ever end:
After all the stuff that makes our lives kind of crazy,
The short, simple, and peaceful word that becomes enfleshed in the Word
is that we are of infinite value and worth to God.
And God never forgets. 
For unto us a child is born, a son is given to us,
Authority rests upon his shoulders,
 and he is named
Wonderful counsellor, mighty God,
Everlasting Father, Prince of Peace.
But the angel said to them:
do not be afraid, for see,
I am bringing you good news
of great joy for all.
And the word became flesh
and dwelt among us, and we have seen his glory,
the glory as of a Father's only son,
full of grace and truth.
That is Christmas, and that is more than enough.
Amen.