Grace Pritchard Burson
The Young Clergy Women Project, Conference 2016
Service of Healing & Communion
Tuesday, July 12, 2016
This is a sermon preached at the 2016 conference of what was then called the Young Clergy Women Project (now Young Clergy Women International) in Boston, MA. I would preach it differently now, five years on, with a much improved understanding of gender identity issues, but I present it here as given. The text was Luke 8:40-56.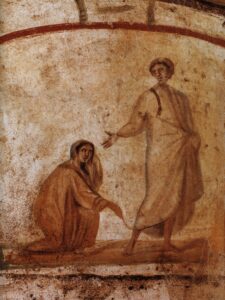 Christ healing the hemorrhaging woman. Fresco from the Catacombs of Marcellinus and Peter.
In the summer after my final year of seminary, I was at church when this story was preached.  Listening to the gospel reader say, "Someone touched me; for I noticed that power had gone out from me," it occurred to me that this was a remarkably evocative description for precisely the sensation of vaginal bleeding that the woman had been experiencing for twelve long, painful years.  And I thought, wow, Jesus may have been the only man in human history to know what it feels like to menstruate.
A seminary classmate and good friend of mine was there (I think she may actually have been the preacher that morning) and I confided this insight to her.  Vicki, my friend, wanted me to tell our mentor, the rector (I had been this parish's intern the year before she was) about it.  Being 25 and in many ways much less outspoken than I am now, I resisted the idea of looking a man in the eye and talking about my experience of having my period.  Eventually, rolling her eyes (imagine a lesbian, large of voice and presence and a generation older than me, telling me as kindly as possible to get a grip) she told him herself, and our mutual mentor, the gentlest, most feminist straight white dude you can imagine, was intrigued.  Vicki suggested that maybe this would preach someday, and I said, "Well, maybe if the congregation were entirely women …"
Well, here you are!
If you're looking for women's bodies in the gospels, this pair of stories is the motherlode.  And with all due respect to Jairus' daughter, who I'm sure was the loveliest of twelve-year-olds and deeply cherished by her parents, I'm mostly going to talk about the unnamed, apparently friendless and kinless woman with the hemorrhage.
Because the thing about her body, her presence, her experience and her encounter with Jesus, is how central it turns out to be – and how closely it does, in fact, parallel the experience of Jesus himself.
She is drained.  She has felt power going out of her – literally flowing out of her – for twelve years.  She is chronically sick, exhausted and financially spent.  We know nothing about her family or social status, but we know that she is in the crowd alone.  If she is inclined to be serious about her religion, her perpetual state of ritual impurity must be an additional burden.
Almost alone among those who encounter Jesus in his healing ministry, she takes the initiative.  Jesus doesn't ask her "Do you wish to be made well?" She doesn't give him the chance; she just reaches out and touches the fringe of his garment as he goes by.
And he knows.  If she had hoped to be there and gone, to remain anonymous in the crowd, those hopes are dashed.  As she ceased to be drained, Jesus was drained instead.  In the power going out of him, a relationship was formed.  And so he looks around for her, finds her, names her as kin, and commends her faith.
We know how she feels; and we know how he feels.
Hear that again; let it sink in.  Jesus; and this woman, healed of her disease and assured of her belovedness; and ourselves.  We all know how this feels.
As women, we bleed; as pastors (and as women), we know the feeling of pouring out our substance to meet the needs of others.  And both of these experiences are echoed in the experience of the One who came among us as God with us.
The encounter is related with astounding matter-of-factness.  As with every other time Jesus talks with or about women, we are – lo and behold – treated simply as human beings, as though there were nothing weird or disturbing about our bodies, hearts or minds.  Funny how that works.
As the unnamed woman claims her healing and wholeness from and through Jesus, and is affirmed when he seeks her out, she becomes a participant in Jesus' healing work, and vice versa.  The give and take, the ebb and flow, of power and vulnerability and healing, is mutual.
And the parallels between her and Jesus don't stop there.
In Frances Taylor Gench's brilliant exegesis of this passage in Back to the Well, she points out the multitude of connections and echoes between this story and that of the Passion.  The linguistic parallels are perhaps clearer in Mark than in Luke, but the imagistic connections remain (and in this case Jairus' daughter gets in on the act):  there is bleeding, suffering, affliction, there is the pouring out of the self, there is death – and then there is healing, wholeness, life, resurrection.
One starts to wonder how anyone could claim that Jesus came to earth only to share and validate the experience of people who happened, like him, to possess a penis.  It is women who know how he feels when he says the he felt power go out of him.  It is women who share the deep connection between the pouring out of blood and the experience of caring, healing, and life-giving.  As in his body, so in our bodies, death and life meet and are transformed (and I'm tempted to say, no wonder they're terrified of us!).
When we are drained, Jesus heals us.  When we are cast down, Jesus restores us.  When we are exhausted and ready to give up trying to follow Jesus and do the work God has given us to do, the fringes of his cloak are there, just within our reach, to hold on to and release the flow of Spirit that will revive us.  And when we are dead, Jesus takes us by the hand and brings us back to life.
And in all this, God anoints us to bring that healing, restoring, releasing, resurrecting Spirit forth, from our bodies, minds, hearts, and souls, to the world.
Jesus knows what it feels like when power goes forth from you.  That power is the power of God.
Amen.