Ash Wednesday and Lent, 2021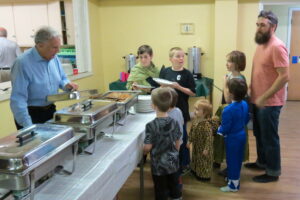 Shrove Tuesday Pancake Supper 2020, in happier times …
As I've said before, in a lot of ways it feels like we entered into Lent in February of 2020 and never came out.  But here we are again, and Ash Wednesday (February 17) is the last major liturgical occasion that we will be observing for the first time under the "new normal" of COVID-19.
The Worship Committee met last weekend and discussed what we can do and why. We plan to offer services by Zoom at noon and 7 PM, both with music. The imposition of ashes will be included, but we will not be distributing ashes to every household as a matter of course.  If you would like ashes, please let Grace know and we will arrange a dropoff.  However, we imagine that responses to the idea of imposing ashes and reminding ourselves of our mortality will be very different in 2021 in light of our collective experience over the past year, and not everybody may want to participate in the same way (especially if you live alone).
To take part in these services, you could ask for the ashes from church, or you could use ashes from your own fireplace or stove, or soil (in this climate, probably soil from a potted plant rather than from outdoors!). Please note that if you use ashes – either your own or received from the church – NEVER mix ashes directly with water! (Ashes + water = lye, and is not good for skin!) You can mix them with oil to make a paste, or you can simply sprinkle them on your head (the ancient expression of mourning and penitence).
Or, rather than imposing ashes, you could anoint yourself with water or oil; the sign of the cross on the forehead is used at baptism and in prayers for healing as well as on Ash Wednesday, and it is entirely appropriate to remember those connections as well. All these options will be built into the services so as to be as inclusive as possible.
If the current lockdown restrictions are eased a bit before February 17, we may also be able to offer "Ashes to Go", giving out ashes outdoors in front of the church by appointment on the afternoon of Ash Wednesday.  Stay tuned!
In addition, we will of course celebrate Shrove Tuesday on February 16, but you'll have to make your own pancakes this year and share them visually with the church family, as we all eat them together over Zoom!  That will happen at 6:00, followed by the ritual burning of the palms, taking place this year on Grace's back porch.
For Lent, we'll participate as a parish in the Montreal Dio course on the Anglican Tradition, taught by our own Hilary Bogert-Winkler on Tuesday nights from February 23 to March 23. Stay tuned for the link, and for other parish Lenten activities as well!