All Saints, Dorval
January 17, 2021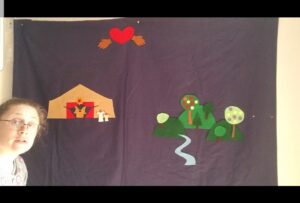 In September of 2019, I started using a felt board Bible story set called "Beulah Land" (created and distributed by my mother, of course) to tell the stories at Messy Church, and I also pulled it out for the Christmas Eve family service that year. Every few months since then, someone (coughusually Dave Tomsonscough) has encouraged me to use the felt board in the regular Sunday morning service, to give the "grown-up" congregation a sense of what the Friday night congregation sees.
So when I realized that today's Old Testament reading was a story that I had told on Zoom Messy Church this past fall, I figured, no time like the present!  Here you go (this was recorded this past Friday).
Click here to watch the video.
"And that's our story."
That's how the felt board story always ends.  Because this is our story, the story passed down to us by our ancestors in the faith, the story that shapes our imaginations and draws us in to be part of its ongoing narrative of God acting in the world.
This story of the calling of Samuel, is – in the best possible way – a typical Beulah Land story. One of the ways that the set and its associated curriculum build faith in children is by the use of repeated words and motifs. At the top of the board for every story is the red heart with two brown hands representing God.  The hills, trees, river, the "holy flame" in the tent of meeting, are all among the many recurring images in the set – deliberately designed so as to be easy for children to replicate in their own artwork – that accumulate meaning as they are used in the different stories, and can be mixed and matched to generate new meanings. (Watching kids engage with the stories after I tell them – actually play with the felt pieces and move them around and talk about what they're doing and why – is one of the most fun parts of Messy Church when we can have it in person.)
And the phrase, "Here I am," which Samuel uses to respond to Eli when he thinks it's Eli's voice he's hearing in the darkness of the tent, is one that recurs over and over again throughout the whole series of Old Testament stories. When God calls Noah to build the ark, Noah responds, "Here I am." Abraham, told to leave his father's house and seek out a new land? "Here I am." Moses, encountered beside the burning bush?  "Here I am."
After we tell the story at Messy Church, we ask "wondering questions". For the story of Samuel, they include, "I wonder what it was like for Samuel to hear God calling his name?" and "I wonder if you have ever heard God calling your name?"
That is the question this story – and every story in scripture – is asking: How do you see yourself in this story? Where do you see this story playing out in the world around you?  How, if you have eyes to see, might God be working, right here and right now, based on how we have known God to work in the past?
By imagining small, brave Samuel tucked up in bed beside the ark of the covenant, bothering old and cranky Eli (who does not appreciate being repeatedly woken up in the middle of the night) until they figure out together what is going on, children are empowered to see themselves as someone whose name God might just call one of these days and commission them to go and make a difference in the world – even if they need help from the grownups to figure it out, and even if the grownups don't get with the program right away!
Certainly, when Philip and Nathaniel went looking for Jesus, it was with these familiar stories in the backs of their minds, and the knowledge that God could call the most ordinary and unlikely of people – even people from Nazareth! – at a moment's notice into God's mission of healing, liberation, and reconciliation.
In fact, God is calling the name of each and every one of us, and has created us for our own unique role in the work God is doing, right here, and right now.
I wonder what it was like for Samuel to hear God calling his name?
I wonder if you have ever heard God calling your name?
Come and see.
And that's our story.
Amen.