All Saints, Dorval
March 1, 2020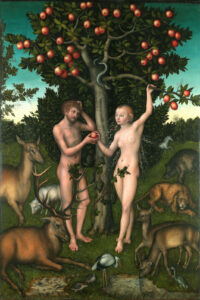 Lucas Cranach the Elder, "Adam and Eve", 1526.
The story of Adam and Eve eating the apple is simultaneously one of the best known, and most often misused, misunderstood, and hated, parts of the Bible. One could easily fill an entire semester course at the university level with different takes on this story, and people probably do. So one 1400-word sermon is barely going to scratch the surface, but I think it's worth at least trying to begin, to give us some idea of how one might approach this incredibly important, incredibly loaded text.
To start with:  this story is a story, not at attempt at history or science.  And the people who told it orally, who wrote it down, and who included it as they compiled their holy scriptures, understood it as such.  They knew that it had multiple layers of meaning.  They were not too dumb to understand that the two accounts of Creation in Genesis 1 and 2 contradicted each other – but they saw both of them as sufficiently important to be included.  Those who take this story as literal fact and therefore claim that the earth cannot be older than 5000 years or that the Big Bang cannot have happened, are committing a logical fallacy similar to someone who believes that the Cinderella story is literally true and therefore Elizabeth II cannot actually be Queen of England.
Like children encountering the Cinderella story, the Bible invites us into these strange, difficult, formative stories not to analyze, but to immerse – to get inside the story, try on the costumes, move around as the characters, and see what happens. When Jesus told us that we must become as little children in order to see the kingdom of God, this is what he meant: children have far less trouble with stories like these than adults do.
So everything else I'm going to say about Adam and Eve this morning assumes that we are treating this story as what it is, a legend, an origin story, a paradigm with literally infinite possibilities in terms of meaning, which speaks deep truth precisely because it is unlikely to have a literal basis in fact.
And of course, our selection this morning stops short of the really tough parts: the parts where God calls Adam and Eve on the carpet, where both man and woman deflect and blame others for their own sins, where they are given gendered curses, and finally flung out of the garden and barred with a flaming sword from the Tree of Life.
I have been asked, many times, how I can possibly ascribe to, let alone preach, a faith that tells women that they are punished by pain in childbearing, and that "your desire shall be for your husband, and he shall rule over you." (Strangely, nobody seems to object to the man being told that he will sweat to bring forth bread from the earth!)
And what I always say in response is, what do we think this text is?  Is it a prescription? Or is it a diagnosis?
Because if it's a prescription, then I agree. This is not a god I want to worship: a God who thinks that a dandy solution to humanity's problems is this kind of punishment.
But nothing about the text indicates that a prescription is what it is.  Instead, it reads as precisely what it is:  a diagnosis.  It reads like the deep ponderings of a people who found themselves in this situation already.  They were living in a part of the world that was the birthplace of agriculture:  the Fertile Crescent.  They were among the first – if not the very first – people to shift from hunting and gathering to settled life with flocks and fields. This shift had promised wealth and security, and indeed some people accumulated social power and got rich – but most found themselves working harder and longer than they had when they were hunter-gatherers, and the women, instead of being equal partners, were now kept at home and told that who their children's fathers were mattered so much that the men would now be controlling their sexuality.
And as a result of intensive cultivation, the lands that had been so fertile – green and lush, like a tree-filled garden – were beginning to dry up, the start of the several-millennia-long process that has resulted in the once "Fertile Crescent" now being the arid and marginal landscape of contemporary Iran and Iraq.
It's really quite astounding, when you think about it, that a bunch of literate, high-status men in this society – who, even if they weren't the ones to tell the story first, were the ones to write it down and make sure it was transmitted – were able to understand that their privileged place in a patriarchal world was in fact not "the way things should be" but rather the result of human sin – that, in fact, the struggle of low-status men to wrest food from the earth, and the plight of women, both desiring and depending on men who might or might not treat them well – were not "God's plan for humanity" but rather the result of things going terribly wrong.
That is where the Bible begins.  With the twin affirmation that all of God's creation is very good – that's the message of Genesis 1 – and that that primal goodness has been bent, twisted, broken, because of something we did.  It is a profound and subtle recognition of what is obvious to anyone who has spent two minutes thinking about human nature. As Dorothy Sayers wrote to a correspondent on the subject, "the moment you say, 'There's something wrong, there's a disease, and it's something to do with man [sic]' – then, it doesn't matter two hoots what you call it, you have discovered what the Church means by sin."
So what do we do about it?  The lectionary, of course, pairs this reading with Jesus' temptation in the desert, which John Milton also understood as reversing the temptation of Adam and Eve by refusing the wiles of the devil.  Conversely, many modern commentators like to treat the Fall as though it were an unfortunate but inevitable step toward maturity and independence – as though humanity had no option but to leave the garden sooner or later, and maybe it's really all for the best.  And St. Augustine, lyrically and paradoxically, celebrates it as O felix culpa – "O happy Fault" that merited so great a redeemer.
All these things can be true – as I said, this story bears a myriad of interpretations. But I think we can celebrate the miracle of Jesus' coming among us, and of the Resurrection, without losing sight of the very real possibility that Adam and Eve could have chosen obedience. They could have stayed in the Garden and grown to maturity in unbroken cooperation with God, and they could have eaten of the tree of life anytime they chose.  They would ultimately have come to the knowledge of good and evil intellectually, the same way that God knows it.
But instead they chose to grasp at the knowledge of good and evil immediately, and they learned it by experience, the way a child who has been warned not to put their hand on a hot stove learns by experience why that command was given, when they disobey it.  If the child had only waited until they were old enough, they would still have learned how to use the stove, but without the pain of a burned hand!
And thus, as Paul says, death came into the world. Humans are created very good, and yet we are small, and finite, and profoundly broken in ways that we find hard to understand, and all of us eventually die.  That is the reality that this story wrestles with, and the reality that Lent acknowledges, and the reality that Jesus comes to reckon with. Because we grasped at being like God, and failed, God will instead come to us, to learn by experience what being human is actually like. And that story will end with a cross and an empty tomb.
Amen.